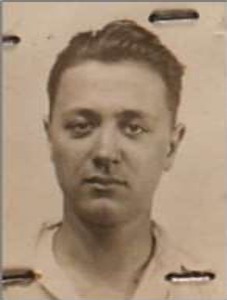 Biography
Scarpello, Charles Anthony
. (Charles Salvale); b. July 4, 1912; Chicago, Illinois; Father Joseph Scarpello (1879-1910?), mother Maria Rizzo (1887-?); Received Passport# 406405 on April 29, 1937 which listed his address as 1601 Cliftview Avenue, Baltimore, Maryland; Sailed June 23, 1937 aboard the
Queen Mary
; Arrived in Spain via Massanet on July 8, 1937; Served with the XV Brigade, 59th (Spanish) Battalion; Lincoln-Washington Battalion; Rank Soldado; Reported MIA March 17, 1938 during the Retreats; Deserted and arrived in Marseille, France on March 26, 1938; Had able bodied seaman's certificate 35329 and life boat certificate 216238, both papers were taken up; Returned to the US on April 14, 1938 as a stowaway aboard the
Manhattan
(under Salvallo); WWII Merchant Marine, February 19, 1942 to August 15, 1945; Wife Carmela DiFranco, daughter Maria Grace Scarpello Michels; d. September 7, 1991, Cockeysville, Baltimore, Maryland, buried in Dulaney Valley Memorial Gardens, Mausoleum, Timonium, Maryland. Scarpello is not to be confused with Canadian Charles Patric Scanlan.
---
Sources:
Sail; Scope of Soviet Activity; Battalion 58 Retreats; Figueres List; XV Brigade; RGASPI Fond 545, Opis 6, Delo 981, ll. 3 (ver archive general); (obituary)
The Baltimore Sun
, September 10, 1991; USSDA 2:0896; 59:0744; L-W Tree Ancestry.
---
Photographs:
Charles Scarpello. two from his 1930 Application for a Seaman's Certificate of American Citizenship, L-W Tree Ancestry; and Photograph from clipping Baltimore,
MD Evening Sun
, April 16, 1938.
---