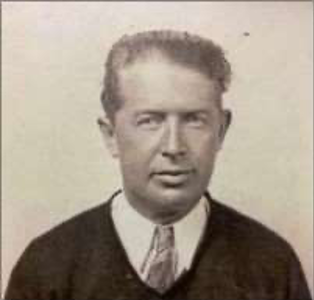 Biography
k-Sperry, Charles Vivian. b. November 9, 1898, Ashburn, Missouri; Father (1857-1937), mother Ida C. Sperry (1873-1903); 8th grade education; WWI served with the 49th Company of the 5th Marines, later was in the Coastal Artillery; In March 1937 he was enrolled in the CCC in Olympia, Washington; Divorced; Cook and Baker; No political affiliation; Received Passport# 28419, San Francisco series, on May 21, 1937 which listed his address as 1502 Westlake, Seattle, Washington; Sailed June 4, 1937 aboard the Statendam; Served with the XV Brigade, Mackenzie-Papineau Battalion in training, to the Brigade as a replacement; Killed in action September 5, 1937, Belchite.
---
Siblings: Brothers Clarence E. Sperry (1896-1980), Frank E. Sperry (1900-?), and sister Martha C. Sperry (1900-1982).
---
Sources: Scope of Soviet Activity; Mac-Pap; RGASPI; USSDA 2:0946, 60:0450; L-W Ancestry.
---
Photograph: Charles Vivian Sperry, Passport Photograph, 1937.