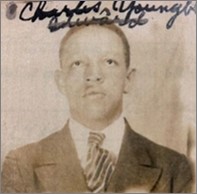 Biography
k-Youngblood, Charles (Edward); b. December 6, 1914, Kansas City, Kansas; African American; Father Mack Youngblood (b. 1887 Spearsville, Louisiana); Single; Marine Fireman and Cook; CP 1935; Received Passport# 384454 on April 5, 1937, which listed his address as 2064 Seventh Street, NYC (1345 W. Grant Street, Phoenix, Arizona); Sailed April 21, 1937 aboard the Queen Mary; (Sailed May 18, 1937); Served with the XV BDE, Lincoln-Washington BN; Rank Soldado; Killed in action on March 10, 1938 near Belchite, during the Retreats; Youngblood's best friend in Spain, Charles Barr, was wounded and captured during the same engagement, after Barr's release from Nationalist prison he visited his friend's family to tell them how their son died.
---
Sources: Scope of Soviet Activity; Cadre; BN 58 Retreats; RGASPI Fond 545, Opis 6, Delo 1017, ll. 67 (ver ar gen amer); African Americans.
---
Biography Charles Youngblood was born in 1913. He lived in New York, was a marine fireman by trade, and joined the Communist Party in 1935. He left for Europe aboard the Queen Mary on April 21, 1937. Youngblood joined the Lincoln-Washington Battalion where he established a close friendship with Charles Barr, a native of Steubenville, Ohio. On March 10, 1938, caught up in the confusion of the Retreats, Barr and Youngblood, along with forty other soldiers, were manning a hasty defensive perimeter when it was overrun by a Nationalist assault. As enemy troops began their attack, Barr and Youngblood shook hands and promised to look up the other's family if either survived. A string of incendiary bullets cut Youngblood down. As Barr attempted to beat out the fire on his friend's jacket he was hit in the eye. Barr survived his wound and was captured. Shortly after his release Barr kept his word to visit his friend's family. ~ Chris Brooks
---
Photograph: Charles Youngblood, Passport Photograph, 1937.