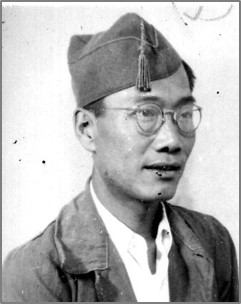 Biography
Chang, Chi
(Christophe Cath); b. April 1, 1900, Hunan (Changsha), China, to the US 1918; father Chi-An, mother Young both deceased; Chinese American; No previous military experience; Attended the University of California for 2 years, then 1918-1923, Graduated from the University of Minnesota, Mineralogy and Engineering program in 1923; Single; Mining Engineer and Civil Engineer; Domicile Minnesota; CP 1935; Sailed March 27, 1937 aboard the Paris; Arrived in Albacete on April 14, 1937; Initially assigned to a transport unit possibly with the XV BDE; Later served with another transport unit headquartered in Albacete; Attended OTS and stayed on staff to teach course on military surveying; Chang returned to China in 1939; He was initially booked on the President Harding for the US but did not board, the information notes that he was planning on continuing on to Hong Kong; WWII served with Maoist guerillas in North China; Spoke English and Chinese.
---
Source:
Cadre; RGASPI Fond 545, Opis 6, Delo 580, ll 32-39; Opis 6, Delo 848, ll. 113, Americans Arriving in Albacete – April 14, 1937 Asian;
Going Through College
(memoir from Chinese American in 1920s) on Chi Chang www.accessmylibrary.com; L-W Tree Ancestry.
---
Biography
Chi Chang was born in Changsha, in the Hunan Province of China. He attended Fuh Tan Middle School, Shanghai. In 1918 he left China to study mining engineering at the University of California, Berkeley but later transferred to the University of Minnesota. After he graduated in 1923, he was employed by the Oliver Iron Mining Company, whose headquarters were at Ishpeming, Michigan. It was probably at this period that he joined the American Communist Party and in 1937 he volunteered for the Abraham Lincoln Battalion. Initially he was a driver in the transportation section but ill health led to his being transferred to construction design work in an office. With the withdrawal of the International Brigades in 1938, Chi Chang left Spain and there is reported to be a photograph in the ALBA archive showing him in Paris in 1938. Later in 1938 he left Europe and went to Hong Kong intending to join the War of Resistance against Japan. In Hong Kong he worked on the translation into English of a work by Mao Zedong, On the New Phase, which was published by the Hong Kong Office of the Eighth Route Army in 1940. What became of him after this is unknown. An autobiographical article about Chi Chang's student days in the USA was published in
Chinese Students Monthly
, vol. 21, no. 2 (December 1925), 36-46.  Submitted by Geoff Lawes
---
Photographs:
Chi Chang in Spain, RGASPI Fond 545, Opis 6, Delo 579; and below Ching Siu Ling, Hua Feng Liu and Chi Chang 1938. Veterans of the Abraham Lincoln Brigade Photograph Collection; ALBA Photo 15; Series 1A, Box 3, Folder 114, Tamiment Library/Robert F. Wagner Labor Archives. Elmer Holmes Bobst Library, 70 Washington Square South, New York, NY 10012, New York University Libraries.
---