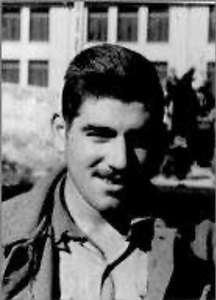 Biography
Litsas, Christoper E. (Litsos, Christos E.); b. May 5, 1919, Manchester, New Hampshire; Greek American; High School education; Single; Seaman (NMU), Auto Mechanic and Hotel Worker; No party affiliation; No Passport issued; Domicile 44 Westminster Street, Worcester, Massachusetts; Arrived in Spain via Espolla on August 8, 1937; Trained at Tarazona from August 12, 1937 to mid-October; Served with the XV BDE, Brigade Fortification, Political Commissar and briefly commanded the unit (Teruel?); Later with Lincoln-Washington BN, MG Co. during Retreats he became separated from unit near Reus; Guard at the control told him the Brigade was reorganizing in Gerona, was traveling there via Barcelona when he met up with Teodorsen and together they travelled by truck to Gerona where they were arrested; Later with Lincoln-Washington, Co. 2, 3rd Coy during Ebro Offensive; Served at Fuentes de Ebro, Teruel, Segura de los Baños, Retreats, and Ebro Offensive; WIA August 1, 1938 near Gandesa, head wound; Rank acting Sargento; During retreats ; Returned to the US on December 20, 1938 aboard the Ausonia; WWII Armed forces; d. October 12, 1993, Worchester, Massachusetts.
---
Sources: Scope of Soviet Activity; Figueres List; RGASPI Fond 545, Opis 6, Delo 999, ll. 64 (under Teodorsen; (also on a page with Teodorsen, Anthony); USSDA 2:0728, 57:0080; Greek. Code A
---
Photograph: Christopher E. Litsas in Spain, RGASPI Fond 545, Opis 6, Delo 935; and Veterans of the Abraham Lincoln Brigade Photograph Collection; ALBA Photo 15; Series I Photographs 1930s-1990s, Box 2, Folder 43. Tamiment Library/Robert F. Wagner Labor Archives. Elmer Holmes Bobst Library, 70 Washington Square South, New York, NY 10012, New York University Libraries.