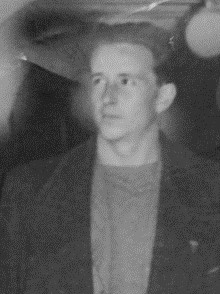 Biography
Forester, Clarence Michael b. November 7, 1915, Alfred, Nebraska (LaMoure, North Dakota); Finnish American; Father Michael Joseph Forester, mother Kaisa Maria Laho; Formal education ended at 13; Single; Truck Driver and Auto worker; YCL 1931; Received Passport# 367458 on February 15, 1937 which listed his address as 1309 5th Avenue, Minneapolis, Minnesota; Sailed April 10, 1937 aboard the Rotterdam; Arrived in Spain on May 1 (5), 1937; Served with the XI BDE and XIII BDE, Driver; Served on the Cordoba Front; Later with the 1st Regiment de Tren and Albacete Auto Park; Returned to the US on December 15, 1938 aboard the Paris; WWII US Army, enlisted March 3, 1942, released September 30, 1945; Assigned to the North Dakota National Guard, Artillery, ETO; Married Hazel Eliina Haapala (1915-1987) on January 3, 1941; d. November 29, 2004 (December 1, 2004), Minneapolis, Minnesota, buried in the Cokato Finnish Cemetery in Cokato, Wisconsin; He donated his memorabilia to the Minnesota Historical Society, in the Minnesota Radicalism Project.
---
Siblings: brother veteran Kenneth Rolland Forester (1917-1995), sister Mabel C. Forester (1914-1925), step brother Walter A. Harger (1901-?), step sister Florence Walworth (1911-?).
---
Sources: Sail; Scope of Soviet Activity; Cadre; RGASPI; Finnish; MPE; Peg Meier, Star Tribune December 1, 2004; (obituary) The Volunteer, Volume 27, No. 1, March 2005, p. 21; L-W Tree Ancestry; Find-a-Grave #19001477.   Code A
---
Biography: Clarence Forester, a Finnish American who went to Spain with his brother Kenneth to defend the Republic in 1937, died in Minneapolis on December 1, 2004. He was 89. Born in Alfred, Nebraska, Forester served with the Regiment de Tren (transportation) and at the Albacete Auto Parc unit. He later joined the U.S. Army and saw action with an artillery group from Normandy to Germany. After World War II, Forester worked in the machine industry. He also experienced the perils of the anticommunist Red Scare. "This is still the only country that hasn't acknowledged that it was the correct thing to do to fight fascism in Spain," he said just a few years ago. Forester shared the pleasure of visiting Spain in 1996, when the Spanish government offered citizenship to the veterans of the International Brigades. He donated his war mementos to the Minnesota Historical Society's Radicalism Project. He was buried at the Finnish Cemetery in Cokato, Minnesota.
---
Photograph: Clarence Forester, from a group photograph taken aboard the Paris; December 1938.