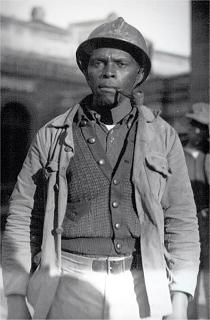 Biography
Pringle, Claude
. b. January 22, 1894 (1895), Halifax County, Virginia; African American; POW; Grammar school education; Prior military service in WWI, US Army, 446 Reserve Labor Battalion, Co. A, Private, enlisted August 17, 1918 to June 24, 1919; Single; Miner; CP 1931 unit secretary; Received Passport# 392813 on April 19, 1937 which listed his address as 637 L Street, Washington, DC, and Bellaire, Ohio (1506 Market, Wheeling, West Virginia); Sailed May 1, 1937 aboard the
Britannic
; Arrived in Spain on June 2, 1937; Served with the XV BDE, Washington BN, Co. 3, Section 3; Transferred to Mackenzie-Papineau BN; Captured March 10, 1938 Belchite, during the Retreats; Exchanged April 22, 1939; Returned to the US on May 6, 1939 aboard the
President Harding
; d. March 28, 1959, buried Riverside Cemetery, Rochester, New York.
---
Sources:
Sail; Scope of Soviet Activity; Cadre; Mac-Paps; Washington; RGASPI Fond 545, Opis 6, Delo 564, ll. 50 (fiche); Opis 6, Delo 965, ll. 35; POW; African Americans.965 Code A
---
Biography:
Claude Pringle was born in Holston, Halifax County, Virginia, on January 22, 1894. Shortly after his birth, his family moved to Logan City, West Virginia, where he was raised. His education was limited to grammar school. During World War I, Pringle served in the U.S. Army and saw duty in France. After the war he worked as a coal miner in Bellaire, Ohio, where he was involved in the mine workers' strike of 1922. He joined the Communist Party in 1931. Pringle departed for Europe on the
Britannic
, on May 1, 1937. In Spain, he served with the Mackenzie-Papineau Battalion and was wounded in the shoulder at Teruel. In a report to the United States from Spain, John P. Davis, Executive Secretary of the National Negro Congress, wrote, "This morning I saw two Negro kids walk down Glory Road: Claude Pringle and Otto Reeves were decorated as loyal, well-disciplined soldiers of the Spanish People's Army." When the Nationalists launched an offensive in March 1938, Pringle voluntarily returned to his unit. During the Retreats Pringle was one of hundreds of volunteers captured by Nationalist troops and imprisoned at San Pedro Cardenas. Conditions at San Pedro were harsh and beatings were common. A photo of Pringle taken while he was at San Pedro shows how the experience aged him. He was among the seventy-one POWs who were repatriated, and returned to the United States aboard the
President Harding
, on May 6, 1939. ~ Chris Brooks
---
Photographs:
Claude Pringle, Mackenzie-Papineau souper, November 1937. The 15th International Brigade Photographic Unit Photograph Collection; ALBA Photo 11; ALBA Photo number 11-0904. Tamiment Library/Robert F. Wagner Labor Archives. Elmer Holmes Bobst Library, 70 Washington Square South, New York, NY 10012, New York University Libraries.; and from a frame of
Defensors de la Fé
(1938), a movie by American Russell Palmer, taken outside of the Burgos Prison Camp, Sources: https://www.youtube.com/watch?v=s6hVRTmbP1c.
---