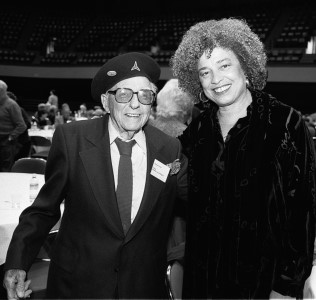 Biography
Persily, Coleman. (Warren, Thomas; Persilly, Coleman; Percy, Charles); b. March 13, 1916, Perth Amboy, New York; Attended Textile High School in NYC; Prior military service in the US Army, New York National Guard, 312th Coastal Artillery, 1935-37; Single; Rope worker, Electrician, and WPA Shipping Clerk; CP January 1936 (1932); Domicile 811 Crotana Park North, Bronx, NY; Arrived in Spain on June 6, 1937; Served with a French Unit of Heavy Artillery, 155mm Guns; Later transferred to the 11th Regt. 2nd Group, 14th Battery "John Brown", Telephonist and Observer; Returned to the US in February 1938; WWII Seaman (ordinary), sheet metal worker in a shipyard and later in the Merchant Marines; d. March 7, 2007 Marin County, California.
---
Sources: Sail; Scope of Soviet Activity; Cadre; RGASPI; ALBA 256 Coleman Persily Papers; Harriman; (obituary) The Volunteer, Volume 24, No. 1, March 2007, pp. 19-20; (obituary) San Francisco Chronicle, March 8, 2007. Code A
---
Photograph:
Coleman Persily and Angela Davis, by Richard Bermack.