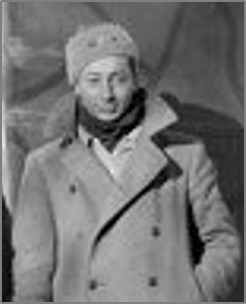 Biography
Silverman, Conrad
. b. December 18, 1915, Brooklyn, New York; Jewish; CoB; 2 years university; Single; Office Worker and Clerk; CP April 1937 and YCL 1935 (1936); Received Passport# 378242 on March 24, 1937 which listed his address as 7006 18th Street, Brooklyn, New York (430 E. 22nd, Brooklyn, New York); Sailed May 1, 1937 aboard the
Britannic
; Survived the sinking of the
City of Barcelona
on May 30, 1937; Served with the XV Brigade; In July 1937 he was serving in the International Auto Park; In September 1937 serving at Brigade HQ in Albacete; Last unit in September 1938 was the XV Brigade, Transport, as a Driver; Rank Soldado; Served at Teruel, Retreats, and the Ebro Offensive; Returned to the US on December 20, 1938 aboard the
Ausonia
; WWII US Army Air Force, 445th Bomber Group Heavy, 700th Bomber Squadron, Navigator, Second Lieutenant; Killed in action December 22, 1943, when his B-24H (#42-64438) was attacked by German fighter and crashed near Bosward, Netherlands, buried in Zachary Taylor National Cemetery, Louisville, Jefferson County Kentucky.
---
Sources:
Sail; Scope of Soviet Activity; Cadre; Pay; RGASPI; USSDA 2:0929, 60:0284; Find-a-Grave #3306146.
---
Photographs:
Sound truck, R. Karman and C. Silverman, December 1937. The 15th International Brigade Photographic Unit Photograph Collection; ALBA Photo 11; ALBA Photo number 11-0006. Tamiment Library/Robert F. Wagner Labor Archives. Elmer Holmes Bobst Library, 70 Washington Square South, New York, NY 10012, New York University Libraries; and RGASPI Fond 545, Opis 6, Delo 988; WWII Conrad Silverman on left and detail from the photo, undated, Find-a-Grave.
---