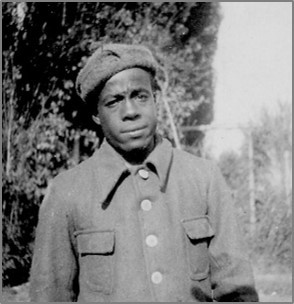 Biography
Chisholm, Albert Edward
b. March 30, 1913, Spokane, Washington; African American; Father Zepher A. Chisholm (1889-1931), mother Realves Salter Chisholm (1895-1931); Attended High School; Single; Seaman and Ship's Cook; CP 1934; Received Passport# 36673, San Francisco series, on July 22, 1937 which listed his address as 314 23rd Avenue, Seattle, Washington; Sailed August 4, 1937 aboard the
Aquitania
; Arrived in Spain via Massanet on August 15, 1937; Trained at Tarazona; Served with the XV BDE, Lincoln-Washington BN, Co. 1; Moved to BDE HQ as an artist; Later returned to the Lincoln-Washington BN, Co. 1; Rank Soldado; Served at Fuentes de Ebro, Teruel, and Ebro Offensive; Broke down at Fuentes de Ebro, placed in Disciplinary Company; Frostbite at Teruel; During Ebro crossing volunteered to row and disappeared; Returned to the US on December 20, 1938 aboard the
Ausonia
; WWII Merchant Marine, Able Bodied Seaman; d. March 25, 1995, Seattle, Washington; Buried at Tahoma National Cemetery, Kent, Washington.
---
Siblings:
brother Clifford Lee Chisholm (1919-1994), sister Beatrice Lee Chisholm (1909-?).
---
Source:
Sail; Scope of Soviet Activity; Americans; Cadre; Figueres List; RGASPI Fond 545, Opis 6, Delo 872, ll.94-99; African Americans; "The Political Cartoons of Albert Chisholm,"
The Volunteer
, Volume 22, No. 2, Spring 2000, p. 14, L-W Tree Ancestry; Find-a-Grave#488192. Code A
---
Biography
Albert Chisholm was born in Spokane, Washington, in 1913 while his father was serving in the U.S. Army. The family later moved to Seattle. As a teenager Chisholm worked as a bellhop on Pacific passenger ships. He became one of the first black members of the Marine Cook's and Steward's Union. He joined the YCL in 1933 and the Communist party a year later. Chisholm saw a connection between Mussolini's invasion of Ethiopia and his own subsequent participation in the antifascist fight in Spain. "I wanted to go [to Ethiopia] to fight against the Fascists," he once said, "but then shortly after that the Spanish issue surfaced, and I saw there would be my best chance." Chisholm left New York, on the
Aquitania
, on August 4, 1937. After a brief period of training, he was sent to Belchite to join the Lincoln-Washington Battalion. Chisholm served on the staff of the Brigade Headquarters where his skills as a cartoonist were put to work on the Brigade's paper. While in Spain, Chisholm met Langston Hughes, Paul Robeson, and Ernest Hemingway on their visits to the front. During the first day of the Ebro Offensive, Chisholm and fellow volunteer, Sam Zakman, took shelter in the hills during an air attack on the bridgehead. Both men were picked up as stragglers by a Spanish unit and spent the rest of the campaign attached to it. Chisholm traveled back to the United States aboard the
Ausonia
on December 20, 1938. Upon his return to Seattle, local people who thought that he had been fighting as a mercenary and was now wealthy besieged Chisholm. This, of course, was not the case, and after a brief rest, Chisholm returned to sea. During World War II he served in the Merchant Marine and made numerous dangerous runs. On one trip to Murmansk, his ship was torpedoed and sunk in the North Sea. He continued this work until 1971, when his union membership was revoked apparently for political reasons. Chisholm died on March 25, 1998. - Chris Brooks
---
Photographs:
Albert Chisholm in Spain RGASPI Fond 545, Opis 6, Delo 872, ll. 94, and below Chisholm artist for Brigade Bulletin, November 1937. The 15th International Brigade Photographic Unit Photograph Collection; ALBA Photo 11; ALBA Photo number 11-0653. Tamiment Library/Robert F. Wagner Labor Archives. Elmer Holmes Bobst Library, 70 Washington Square South, New York, NY 10012, New York University Libraries; and in Spain, .
---