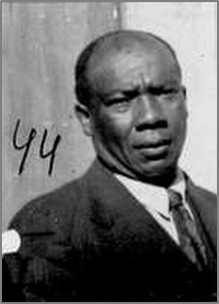 Biography
Carter, Council Gibson b. February 25, 1885, Hartsville, South Carolina; African American; AMB; Attended night school and took business courses in NYC; Single; Secretary and Miner; CP 1934; received passport# 453652 on June 29, 1937 which listed his address as Carbonville, Utah, and NYC; Sailed June 30, 1937 aboard the Aquitania; Arrived in Spain on June 10, 1937; Served with the Republican Medical Service as an ambulance driver and medical assistant; Returned to the US on December 20, 1938 aboard the Ausonia; WWII civilian; d. June 15, 1962, NYC.
---
Source: Sail, SACB, RA, ALBA Frederika Martin box 94, Ancestry.
---
Biography Council Gibson Carter was born in Hartsville, South Carolina on February 25, 1885. As a young man he moved north and worked as a busboy in a number of New York hospitals in order to pay for his education. He attended night school studying shorthand and typing. After completing his studies, Carter found a position as a personal secretary and valet to an elderly mining engineer. He traveled with his employer throughout much of the American Southwest and Mexico. When his employer died in 1921, Carter became a miner in Utah. While working in the Utah coal mines, Carter became an active supporter for Marcus Garvey's Universal Negro Improvement Association. In 1933 Carter corresponded with the Nicaraguan revolutionary leader Augusto C. Sandino about world events. Carter joined the Communist party in 1934. Carter sailed for Europe aboard the Aquitania June 30, 1937. In Spain, Carter served as an ambulance driver with the American Medical Bureau. Carter returned to the United States aboard the Ausonia on December 20, 1938. Following his return, Carter appeared at a number of fund raising events sponsored by the Negro Committee to Aid Spanish Democracy. Carter died in New York on June 15, 1962. ~ Chris Brooks
---
Photograph: Council Gibson Carter in Spain. RA Fond 545, Opis 6, Delo 876.