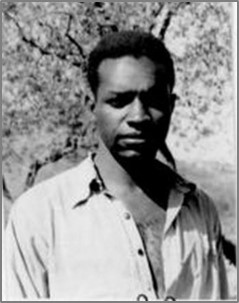 Biography
Morgan, Crawford. b. November 4, 1910, Rockingham, North Carolina; African American; Father Richard Morgan (1885-1966), mother Bessie Nicholson (1894-?); Browns High School education and served as an apprentice printer; No prior military service; Married Allie Staten (1907-?) on January 25, 1930 in Norfolk, Virginia; Printer; CP 1936 and YCL 1932; Received Passport# 369937 on February 26, 1937 which listed his address as 419 West 53rd Street, NYC (450 West 22nd Street, NYC); Sailed March 10, 1937 aboard the Washington; Arrived in Spain on March 28, 1937; Served with the XV BDE, Washington BN, Co. 2 and Lincoln-Washington BN; WIA at Quinto, hit in thigh, Benicasim from August 28 to October 15, 1937; After recovery assigned to BDE Auto Park on October 17, 1937; Served at Brunete, Quinto, Belchite, Fuentes de Ebro, The Retreats, and Ebro Offensive; Rank Soldado; Returned to the US on December 15, 1938 aboard the Paris; WWII US Army, enlisted August 7, 1942, ETO; Divorced Allie Staten on January 13, 1943; d. August 27 (28), 1976, Norfolk,Virginia, buried in Calvary Cemetery in Norfolk, VA.
---
Siblings: brothers James Morgan (1913-?), Clarence Morgan (1915-1917), Glenwood Morgan (1923-1998); sisters Mary Morgan (1919-?), Bessie Morgan.
---
Sources: Sail; Scope of Soviet Activity; Cadre; Mac-Paps; RGASPI Fond 545, Opis 6, Delo 950, ll. 31-40; (obituary) The Volunteer, December 1976, p. 8; L-W Tree Ancestry; Find-a-Grave #102600007.  Code A
---
Box 2, Folder 23, 177_197042 [List of Names] Moscow Fond 545, Opis 5, Delo 197, ll. 42, Oct. 1938. This is a page from Folder 197: Album of 15th International Brigade Presented to the American Communist Volunteers of the 15th Brigade by the Communist Party of Spain. On a two page spread entitle Declaration of the American Negro Comrades eighteen individuals signed the second page.
---
Biography:  Crawford Morgan was born November 4, 1910 in Rockingham, North Carolina. While still a child, he moved with his family to Norfolk, Virginia where he attended high school. After graduation, Morgan studied to become a printer. In 1932, he joined the Young Communist League. During the Depression he became involved in organizations of the unemployed in New York and was on one occasion arrested in a demonstration at the Home Relief Bureau. On March 10, 1937 Morgan boarded the Washington bound for France. In Spain he was assigned to the infantry attached to the Mackenzie-Papineau Battalion and later transferred to the Lincoln-Washington Battalion. His battalion went into action at the end of August 1937 on the Aragon front and Morgan received a leg wound storming the town of Quinto. After recovery, Morgan rejoined the Lincoln-Washington Battalion's Third Company. This was shortly after the action at Fuentes de Ebro in October 1937. Complications from his leg wound resulted in his transfer to the XVth Brigade's Transport Unit where Morgan remained for the remainder of the war. Morgan returned from Spain, on the Paris, on December 15, 1938. In August 1942 Morgan enlisted in the U.S. Army and served in an all-black unit, until May 1946. After leaving the army Morgan resided in Norfolk, Virginia and worked as a truck driver until 1949. He later returned to New York and became an offset printer. On September 15 and 16, 1954, Morgan testified at length on behalf of the VALB in hearings before the Subversive Activities Control Board (SACB) of the U.S. Department of Justice. The SACB was in the process of declaring the VALB to be a subversive organization. The VALB attorney called Morgan as a defense witness. He testified "being a Negro, and all of the stuff that I have had to take in this country, I had a pretty good idea of what fascism was. I got a chance there [in Spain] to fight it with bullets, and I went there and fought it with bullets. If I get a chance to fight it with bullets again, I will fight it with bullets again." Morgan remained an active member of the VALB. In the early 1970's, he worked with the group's Historical Commission to gather information on other African American volunteers. Morgan died on August 27, 1976. ~ Chris Brooks
---
Photographs:
Crawford Morgan, RGASPI Fond 545, Opis 6, Delo 950, ll. 32; Crawford Morgan and Kenneth Brown. Photograph courtesy Adolph Ross.
---