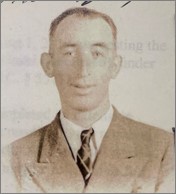 Biography
k-Brudzinski, Czeslaw (Budzinsky; Brudinsky, Boleslaw); July 20, 1900, Hamtramk, Michigan; Polish American; Father Piotr Brudzinski (1865 Poland -1924); Machinist; CP; Received Passport# 33266, San Francisco series, on January 18, 1938 which listed his address as 685 West 20th Street, San Pedro, California; Arrived in Spain via Massanet on February 8, 1938; Served with the XV BDE, Lincoln-Washington BN; Rank Soldado; Killed in action April 3, 1938, Gandesa, during the Retreats.
---
Source: Scope of Soviet Activity; Figueres List; Inventory North Americans; BN 58 Retreats; L-W Tree Ancestry.
---
Photograph: Czeslaw Brudzinski, Passport Photograph, 1937.