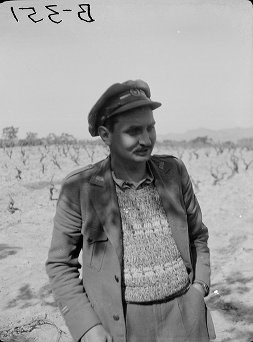 Biography
k-Pasternack, Daniel Alvin
. (Pastermack); b. July 20, 1914, NYC; Father Jesse Pasternack (1876-1963), mother Frances Rose Manovill (1883-1966); Columbia University graduate; Married; Mechanical Engineer; YCL 1935 and CP (?); Received Passport# 434406 on June 5, 1937 which listed his address as 215 East 18th Street, NYC and Tampa, Florida; Sailed June 12, 1937 aboard the
Georgic
; Arrived in Spain via Setcases on June 30, 1937; Served with the XV BDE, Mackenzie-Papineau Battalion; Killed in action October 16 (13), 1937, Fuentes de Ebro.
---
Siblings:
Annette Pasternack (1904-1987), brothers Monroe Harold Pasternack (1906-1993), Roland Pasternack (1917-1996).
---
Sources:
Scope of Soviet Activity; Figueres List; Mac-Paps; Americans and Canadians Killed in Spain Complete list to November 15, 1937, Ra, USSDA 2:0828, 58:0677. Code A
---
Photographs:
Daniel Pasternack, April 1938. The 15th International Brigade Photographic Unit Photograph Collection; ALBA Photo 11; ALBA Photo number 11-0144. Tamiment Library/Robert F. Wagner Labor Archives. Elmer Holmes Bobst Library, 70 Washington Square South, New York, NY 10012, New York University Libraries.
---