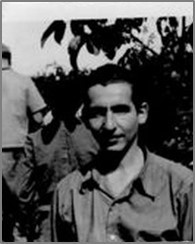 Biography
Chriss, David b. November 15, 1916, Brooklyn (NYC), New York; Father abandoned the family when he was a child; Sister; Dropped out of high school; Single; Clerk; CP December 1937; Domicile 44 Brighton, 3rd Court, Brooklyn, New York; Travelled on a Spanish Passport under the name Ricardo Fernando David; To Spain with Joe Cuba aboard the Manhattan (December?); Arrived in Spain via Massanet on May 29, 1938; Served as of July 1938, with the XV BDE, Lincoln-Washington BN, Co. 1; Last unit XV BDE, Transmissions; Rank Soldado; WIA; In hospital until the end of the war; Returned to the US on December 15, 1938 aboard the Paris, on certificate 74-867; WWII received a deferment for war industry work, repaired periscopes; Married second wife Tamara circa 1972; Member of the San Diego Chapter of VALB; d. November 9, 1992, San Diego, California.
---
Source: Figueres List; Pay; RGASPI; Sue Garson, "For Whom the Bell Tolled, San Diego Veterans of the Spanish Civil War, San Diego Reader, July 17, 1980; L-W Tree Ancestry. Code A
---
Photograph: David Chris in Spain. RGASPI Fond 545, Opis 6, Delo 872.