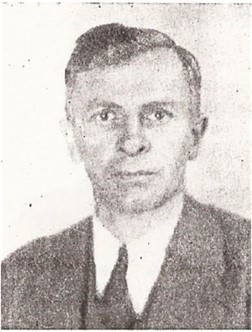 Biography
Jones, David Everett b. November 12, 1898, Charlottenberg, Rhein-Lahn-Kreis, Rhineland-Palatinate, Germany; Parents Americans father Everett Star Jones (1864-1940), mother Anna A. Hunt (1866-?); CP 1925 (1924); US Navy 2.5 years, Yeoman 3rd Class; Married Ethel G. Eaton (1898-?) on December 31, 1925, daughters Ruth Jones (1926-2002), Elizabeth Jones (1928-?), Barbara Jones (1929-?); Married Bessie Lubits (1908-?) on April 5, 1933 in Henniker, New Hampshire, son Karl Jones (1935-?); Twice married and divorced; Received Passport# 6247 New York series on January 9, 1937 which listed his address as 198 Chambers Street, Boston, Massachusetts; Sailed January 9, 1937 aboard the Lafayette; Served with the XV BDE, Lincoln BN, BN Commissar; Briefly commanded the Lincoln BN after the attack on the 27th; WIA on 15 April Jarama, Lutz took over as BN Commissar; Recommended by Captain Johnson for OTS; Repatriated to conform to policy; d. May 10, 1987, Dorchester, Massachusetts.
---
Siblings: Sheldon Starr Jones (1900-1972), Erastus Jones (1905-1974).
---
Source: Sail; Scope of Soviet Activity; RGASPI Fond 545, Opis 6, Delo 917, ll. 116; (obituary) The Boston Globe, May 12, 1987.
---
Photograph: Photograph from New England Fights for Democracy.