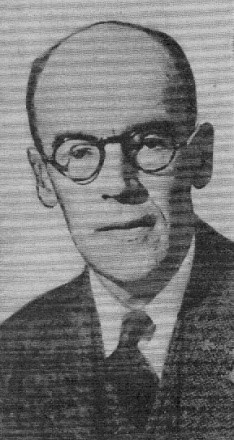 Biography
White, David McKelvy b. August 8, 1901, in Edgeworth, Pennsylvania; Father George White, mother Charlotte McKelvy White, Single; CP 1935; Received Passport# 374734 on March 13, 1937 which listed his address as 76 Columbia Heights, Brooklyn, New York; Served with the XV BDE, Washington BN, MG Co., Section 2; Lincoln-Washington BN, MG Co., WIA Brunete; Repatriated for political work and returned to the US on September 24, 1937 aboard the De Grasse; Became head of Friends of the Abraham Lincoln Brigade (FALB); d. July 31 (30), 1945, buried in Oak Grove Cemetery, Marietta, Washington County, Ohio; Committed suicide after the CP threatened to expel him because he was a homosexual.
---
Siblings: sister Mary Louise White, brothers Robert and Charles Zayne White;
---
Sources: Scope of Soviet Activity; Washington; RGASPI Fond 545, Opis 6, Delo 849, ll 28, List of American Comrades that have been Repatriated as per October 15 1937; USSDA 2:1041, 61:0825; VALB Office Files; ALBA 070 David McKelvy White Papers; The David McKelvy White Memorial Collection: Material on the Spanish Civil War Collected by the Veterans of the Abraham Lincoln Brigade in the New York Public Library, L-W Tree Ancestry; Find-a-Grave# 38977609. Code A
---
Biography: David McKelvy White was born in 1901 into a prominent Ohio political family. His father, George White, was an oil entrepreneur who later became governor of Ohio and chairman of the National Democratic Party. David White graduated from Princeton University in 1925 and taught English literature and composition at City College and Brooklyn College in New York City. Reports of the civil war in Spain and sympathy for the anti-fascist cause impelled White into action. He sailed to France in March of 1937 and crossed the Pyrenees into Spain on foot to join in the fight against the fascists. While serving as company clerk, machine gunner, and stretcher-bearer in the Fourth Machine Gun Company of the George Washington Battalion under lieutenant Walter Garland, White encountered several of his former students, including Hy Roseman, Harry Hakam and Leonard Lamb, who became White's machine gun instructor. In July, 1937 White fought in the Battle of Brunete. Before leaving Spain, he wrote a journal about his experiences. White returned to the U.S. in the fall of 1937 and took over as executive secretary (and later national chairman) of the Friends of the Abraham Lincoln Brigades (F.A.L.B.). F.A.L.B. worked to hasten the release of Americans from Spanish prisons; to assure medical care for wounded volunteers; to deal with the problem of foreign-born Americans being detained at Ellis Island; to expedite shipments of cigarettes, chocolate and other provisions to volunteers still fighting; and to raise funds on behalf of the Spanish Republican cause. In 1939 White became a long distance foster parent to a Spanish Civil War orphan, who sent him letters and drawings. White also wrote and lectured widely about the situation in Spain. His writings include the pamphlets From These Honored Dead, co-authored by James Hawthorne, and Franco Spain…America's Enemy. F.A.L.B. officially disbanded in December 1939; the Veterans of the Abraham Lincoln Brigade assumed responsibility for all outstanding F.A.L.B. activities. In 1940 the Rapp-Coudert Legislative Committee interrogated White as part of their investigation into communistic activities in the New York State school system. White declined immunity and refused to testify. He went on to direct the Detroit Labor School from 1942-1944. White died in 1945 from a heart attack at the age of 44 [actually from suicide]. - Courtesy of Tamiment Library, NYU.
---
Photograph: Among Friends.