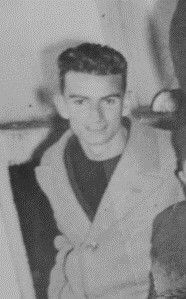 Biography
Altman, David Robert
b. October 11, 1912, Milwaukee, Wisconsin; Jewish; father Robert D. Altman, mother Jeanette; 2 years College; No prior military experience; Single; Laborer, Longshoreman, and Cab Driver; CP 1935 (1934) and YCL 1935 State Board, International Longshoreman's Union; Received Passport# 429519 (420519) on May 21, 1937 which listed his address as 2739 North 1st Street, Milwaukee, Wisconsin; Arrived in Spain via Setcases on June 19, 1937 and entered the IB on June 22, 1937; Served with the XV BDE, Mackenzie-Papineau BN in training; Remained with the Mackenzie-Papineau BN, Co., later Responsible for English Speaking Hospital, Universidad, Murcia; Rank Soldado; Served at Fuentes de Ebro; WIA in an accident at Fuentes de Ebro October 13, 1937; Wounded while "Making ready to stop a supposed night attack. Safety catch on rifle sprung loose while fixing the bayonet. Gun fired hitting both hands." Hospital Division 4 days, Taragona 5 days, Benicasim 2 weeks, Murcia 4.5 months, Mataro 6 months; Returned to the US on December 15, 1938 aboard the
Paris
; WWII US Army, 6th Division, 63rd Infantry Regiment, Company E, rank PFC; The 63rd participated in the assault on Sansapor, New Guinea (July 1944) and Lingayen Gulf in Luzon, Philippines (began January 10, 1945.) Altman died in action on January 15, 1945, Luzon, Philippines; Initially buried in Luzon, was later returned to the US and buried in the Spring Hill Cemetery and Mausoleum, Milwaukee, Wisconsin.
---
Source:
Scope of Soviet Activity; Cadre; Figueres List; Inventory North Americans; Mac-Paps; RGASPI Fond 545, Opis 6, Delo 541; Opis 6, Delo 586, ll.71-76; Date of death and burial information from Abbie Miller Reference Archivist, Wisconsin Veterans Museum Research Center, Madison, Wisconsin; L-W Tree Ancestry; Find-a-Grave#126636454. Code A
---
Photographs:
David Altman detail from group photograph taken aboard the
Paris
, December 1938; and below in Spain, Fond 545, Opis 6, Delo 856.
---