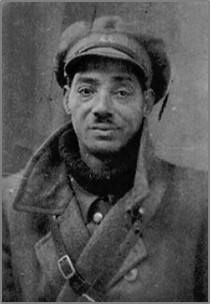 Biography
del Sol, Rogelio (del Sol Renova, Rogelio); b. March 29, 1886, Matanzas, Cuba; Afro-Cuban; Parents Beatriz-Viviana and Urbano Brother Arturo; Five years of primary school education through 4th grade; Served in the Cuban Army from 1911 to 1919, seven years, 2nd Company of Machine Gunners, Rank SGT; Joined the US Army served two years in Cavalry, Rank Corporal; Single; Mechanic and Laborer; Domicile 222 W, 116th St., NYC, and Philadelphia, USA; CP USA, Club Julio Mella, and Spanish CP; Sailed February 20, 1937 aboard the Ile de France; Arrived in Spain on September 18, 1937; Served with the XII Brigade, Garibaldi BN; Later to Albacete Special Services; Rank Sargento; Served at Guadalajara and Huesca; Repatriated October 1938.
---
Source: RGASPI Fond 545, Opis 6, Delo 590; Opis 6, Delo 585, ll. 138, Cubanos, October 25, 1938 (Repatriated); Opis 6, Delo 590, ll. 42-48; USSDA 852.2221/284.11; Alfonso Bello and Pérez Díaz; SIDBRINT.
---
Photograph: Rogelio Del Sol in Spain, RGASPI Fond 545, Opis 6, Delo 590.