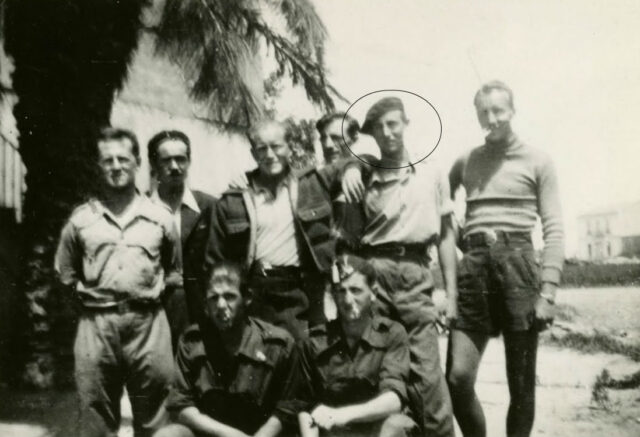 Biography
Berg, Delmer
(Berg, Esley Daniel); b. December 20, 1915, Anaheim, California; Father Isaac I. Berg (1890-1988), mother Isabel Belle Teller (1893-1972); High School education; Prior military service in the US Army, Battery B, 76th Field Artillery; Bought out his army contract for $120 with the intention of going to Spain; Single; Cook and Dishwasher; CP of Spain; Received Passport# 32135, San Francisco series, on October 2, 1937 which listed his address as 132 North Hill Street, Los Angeles, California, and Manteca, California; Sailed January 4, 1938 aboard the
Champlain
along with Louis Gayle, Harry Hurst and Peter Sturgeon; Arrived in Spain via Agullana on January 16, 1938; Served with the Defensa Contra Aviación (DECA) attached to Fuerces del Airt, International Anti-Aircraft BN, Battery 14, the German "Dimitrov" Battery; Trained as an Oerlikon gunner even though the weapon was never supplied; Served in the Estado Mayor for BN in the communications section; WIA during an air raid on Valencia; Returned to the US in January 1939; WWII US Army, 389th Anti-Aircraft BN, PTO; Married Dolores M. Chinn (1925-?) on April 10, 1960 in Monterey California; Was next to last surviving Abraham Lincoln Brigade volunteer; d. February 28, 2016, Columbia, Tuolumne County, California, buried Columbia Public Cemetery, Columbia, California.
---
Siblings:
brother Melvin Paul Berg (1913-2000), sister Laverne E. Berg (1918-?).
---
Source:
Scope of Soviet Activity; Figueres List; Inventory North Americans (under Berg, Daniel); RGASPI; L-W Tree Ancestry; Find-a-Grave#158807502. Code A
---
Delmer Berg Interview
, ALBA V 48-013 & ALBA V 48-014, July 14, 1985, Manny Harriman Video Oral History Collection; ALBA VIDEO 048; box number 2; folder number 23; Tamiment Library/Robert F. Wagner Labor Archives, New York University.
---
Photograph:
Yanks in the Dimitrov Battery, standing Sam Slipian, Conlon Nancarrow, Ed Lending, Charles Simpson (?), Delmer Berg, Norman Schmidt, kneeling two Spanish Chauffers; Berg on Morotai Island WWII; and Berg, back right, in training Riverside, California.; Delmer Berg, February 28, 1998, by Richard Bermack.
---