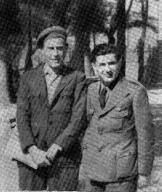 Biography
Jordan, Dennis David (Jordan, Denis); 33 year old, b. NYC; Irish American; No prior military service; Married; Artist, CP 1935; Received Passport# 365-091 on February 2, 1937 which listed his address as 41-18 29th Street, Long Island City, Long Island, New York; Sailed February 17, 1937 aboard the President Roosevelt; Arrived in Spain on March 17, 1937; Served with the XV BDE, Lincoln BN and Lincoln-Washington BN, MG Co. Commissar, later promoted to BN Adjutant Commissar; Served at Brunete; Returned to the US on December 13, 1937 aboard the Queen Mary; d. August 1973, Bronx, New York.
---
Source: Sail; Scope of Soviet Activity; Lincoln; Repatriation List (12/7/1937, ll. 49); RGASPI Fond 545, Opis 6, Delo 917. Ll. 145, ll. 143. Code A
---
Photograph: Dennis Jordan and Edward Bender, Book of the XVth Brigade.