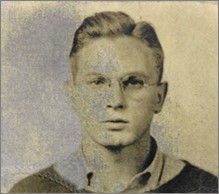 Biography
Boynton, Donald Albert
b. June 20, 1914, Akron, Summit, Ohio; Father Albert Boynton (1872-?), mother Matilda S. Wheeler (1885-1938); Single; Unspecified prior military service; Truck Driver; No party affiliation (CP); Received Passport# 361619 on January 14, 1937 which listed his address as 889 Avon Street, Akron, Ohio; Sailed January 28, 1937 aboard the
Aquitania
; Arrived in Spain on February 11, 1937; Served with a Medical Unit, most likely with the Lincoln BN; Deserted; Arrived at the American Embassy on February 28, 1937; Reported as one of the volunteers aboard the Lost Trucks and news of his supposed death was published in
The Daily Worker
; Returned to the US on March 27, 1937 aboard the
President Harding
; Abraham Boris Eisenberg was also aboard the ship; WWII, Seaman; Married Elizabeth (Boies) Boynton (1917-?); d. May 1, 1992 (April), Los Angeles, California; Spoke English and Spanish.
---
In the Russian archives there is a handwritten note by Boynton dated February 26, 1937 Albacete, Spain:
To whom it may concern: Having volunteered my services to aid in maintaining the freedom of the the Spanish people I hereby state that I am willing to serve in any capacity in which I, personally, can be of most service to them. Donald R. Boynton
---
In a statement by Boynton, recorded at the American Consulate dated March 8, 1937:
States he paid his own way on steamer Aquitania, that is, to Paris, but did not pay his own way to Perpignan. Came in the usual way employed by volunteers in the Spanish army, that is, from Paris to Perpignan by train, from Perpignan to Figueras (Figueres) by bus and thence by train to Albacete. Declares he never enlisted, but admits making out a "fiche" on which he wrote and printed his name. He appeared at this office in uniform, except as to trousers, and wearing a red cross arm band. He says that he simply volunteered to do hospital work, and was last working in a hospital near the Chinchon front. Did no stretcher work on battle fields, has never been with troops, or incorporated in any military group. Has sufficient money for his needs in the form of United States travelers checks. Did not bring his personal effects along, because he came without telling anyone he was coming. He is possibly not authorized to leave.
---
Siblings:
brother Willaird G. (1916-2003), sisters Wilma J. (1910-?), Elda M. (1912-1990);
---
Source:
Sail; Scope of Soviet Activity; Americans; RGASPI F. 545, Opis 2, Delo …; Fond 545, Opis 6, Delo 866; Fond 545, Opis 6, Fond 543, ll. 90 (listed as deserter SIM 1939); USSDA, Ancestry L-W Tree. Code A
---
Photographs:
Donald Albert Boynton, Passport Photograph, 1937 and 1942 (below).
---