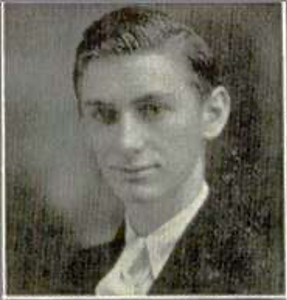 Biography
MacLeod, Donald Blair
. b. March 28, 1913, Fish Creek, Door, Wisconsin; Attended the University of California, Berkeley; Single; Student; YCL 1936; Domicile Cucomonga, California; Sailed March 31, 1937 aboard the
Aquitania
; Arrived in Spain on April 29, 1937; Served with the 1st Regt. de Tren; Returned to the US on October 23, 1938 aboard the
Brittanic
; d. July 28, 1987, Walnut Creek, Contra Costa, California; Married Janice Billings, sister of veteran Marcus Billings on March 22, 1941.
---
Sources:
Cadre; Harriman; L-W Tree Ancestry. Code A
---
Donald MacLeod Interview
, ALBA V 48-120, undated, Manny Harriman Video Oral History Collection; ALBA VIDEO 048; box number 10; folder number 24; Tamiment Library/Robert F. Wagner Labor Archives, New York University.
---
Photograph:
Donald MacLeod in High School and later in life, L-W Tree Ancestry.
---