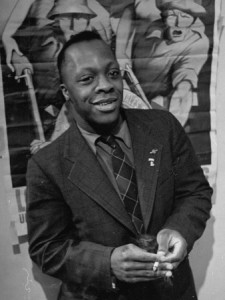 Biography
Roach, Douglass Bryan. b. June 1, 1909, Provincetown, Massachusetts; Attended Massachusetts Agricultural College at Amherst; Single; Seaman and Party Organizer (had earlier been a wrestler); CP 1932 (1934); Sailed January 6, 1937 aboard the Paris; Served with the XV BDE, Lincoln BN and Lincoln-Washington BN; Served at Jarama and Brunete; WIA; Released by the battalion; Repatriated to conform to policy; Returned to the US September 12, 1937 aboard the Ausonia through Quebec then back to the US; d. July 13, 1938; Died in Mount Sinai Hospital Pneumonia, NYC, buried in Hamilton Cemetery, Provincetown, Massachusetts.
---
Sources: Lincoln; RGASPI Fond 545, Opis 6, Delo 849, ll 26, List of American Comrades that have been Repatriated as per October 15 1937; L-W Tree Ancestry; Find-a-Grave# 51305215. Code A
---
Photograph: Doug Roach after returning from Spain. Photo by Peter Stackpole for Life Magazine.