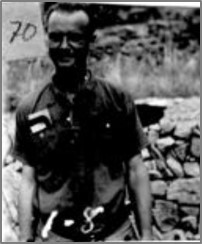 Biography
Ozias, Earl Albert (Ozias, Karl); b. June 17, 1908, Odanah, Wisconsin; Mother Hannah Ozias; 2 years HS, 5 years night school; No prior military service; Married; Laborer and Wood Worker; CP July 1936, unit organizer, United Brotherhood of Carpenters and Joiners of America, AFL, Millman and Cabinet Makers Local 884; Received Passport# 27415, San Francisco series, on May 1, 1937 which listed his address as 139 ½ Gage Avenue, Los Angeles, California; Sailed May 15, 1937 aboard the Georgic; Arrived in Spain on June 10, 1937; Trained in 2nd BN of Instruction Co. 4, Tarazona; Served with the XV BDE, Mackenzie-Papineau BN, Co. 4 Fortifications, and Co. 1; and MG Co. as a Section Leader; Last unit (August 1938) Mackenzie-Papineau BN; Rank Sargento (promoted November 26, 1937); Served at Fuentes de Ebro, Teruel, Retreats (Azura,Caspe, Gandesa) and the Ebro Offensive (Corbera, Gandesa, Sierra Pandols, sierra Cabales); WIA at Teruel on January 20, 1938 and again at Gandesa on April 1, 1938, both times from shrapnel from artillery; Returned to the US on December 20, 1938 aboard the Ausonia; Wife Marjorie Minnie Munson (1912-2005), who later married fellow veteran Ralph Waldo Schartz; d. April 30, 1976, Sun City, California; buried in Rose Hills Memorial Park, Whittier, Los Angeles.
---
Sources: Sail; Scope of Soviet Activity; Cadre; Figueres List; Mac-Paps; Pay (under Ozias, Karl); RGASPI Fond 545, Opis 6, Delo 958, ll. 70-76;Historical Commission of the International Brigades - Mackenzie-Papineau Battalion August 1937 Questionnaire Find-a-Grave# 143931180. Code A
---
Photograph: Earl Ozias in Spain, RGASPI Fond 545, Opis 6, Delo 958.