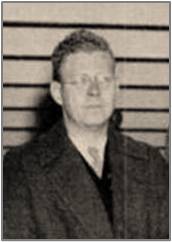 Biography
Acken, Edgar Lawrence
b. November 18, 1906, Milburn, New Jersey; POW; father Henry S. Acken (1874-1939), mother Edith L. (Bunnell) Acken (1876-1953); Florida National Guard 18 months, Rank Corporal; Newspaper man; Socialist Party (before 1934), American Newspaper Guild, International Labor Defense; Received Passport# 490073 on December 22, 1936 which listed his address as 632 2nd Street, Brooklyn, New York; Sailed December 24, 1937 aboard the
President Roosevelt
; Arrived in Spain via Massanet January 6, 1938; Served with the XV BDE; Captured April 3, 1938 near Gandesa, during the Retreats; Exchanged October 8, 1938; Returned to the US on October 18, 1938 aboard the
Queen Mary
; d. February 17, 1978 of a heart attack, Saint Albans, Franklin, Vermont, buried in Greenmount Cemetery in Burlington, Vermont.
---
Sibling:
brother Henry S. Acken (1899-1970).
---
Source:
Sail; Scope of Soviet Activity; Cadre; Figueres List; POW; RGASPI Fond 545, Opis 6, Delo 855, ll. 36; L-W Tree Ancestry; Find-a-Grave #187850473. Code A
---
Biography:
Edgar Laurence Acker,
 was born November 18, 1906, in Millburn, New Jersey. Edgar was a member of the American Newspaper Guild on the staff of the Newark Ledger when its employees struck. He enlisted in the International Brigades in November 1937. Two red-capped Requettes captured him near Gandesa on April 3, 1938. They discussed shooting him on the spot, then decided they would get more credit if they brought him to their officers. Brought to San Pedro, Edgar was among the first 14 exchanged. He returned to New York on the Queen Mary on October 18, 1938. ~ Bob Steck and Carl Geiser POW Historical Commission
---
Photograph:
Edgar Acken from a photograph of returning POWs aboard the
Queen Mary
, October 8, 1938.
---