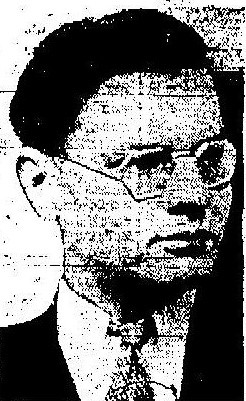 Biography
k-McQuarrie, Edgar Roy. b. June 2, 1915, Detroit, Michigan; Mother Elaine McQuarrie; Attended Wayne State University in Detroit (active in the American Student Union); Student; CP (Anti-fascist); Domicile 1440 Canfiled Avenue West, Detroit, Michigan; Sailed January 5, 1937 aboard the Berengaria; Arrived in Albacete on February 17, 1937; Served with the XV BDE, Washington BN, Co. 3, Section 2, Section Leader, Sargento; Lincoln-Washington BN, MG Co.; Attended OTS; Killed in action July 18, 1937, Brunete.
---
Sources: Americans and Canadians Killed in Spain Complete list to November 15, 1937; BN 58 Retreats; Washington; RGASPI Fond 545, Opis 6, Delo 941, ll. 51-55 (includes a one-page hand-written autobiography and a multi-page letter from his mother requesting information about his death); USSDA 2:0738, 57:0205. Code A
---
Photograph: Roy McQuarrie. Photograph clipping from Detroit, MI, News, May 15, 1938.