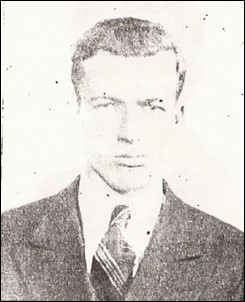 Biography
Flaherty, Edward Coleman. (O'Flaherty); b. December 24, 1910, Norwood, Massachusetts; Irish American; Received Passport# 4009, Boston series, on January 13, 1937 which listed his address as 1083 Boylston Street, Boston, Massachusetts; Sailed January 16, 1937 aboard the Paris; Served with the XV BDE, Lincoln BN, Co. 1, Section 2; Promoted to Co. 1 Adjutant, took over command when Morse was WIA on February 23 at Jarama; WIA at Jarama; Repatriated political; Returned to the US on July 31, 1937 aboard the President Roosevelt; WWII US Army, Transportation in support of Patton's Third Army, ETO; d. July 13, 1978, Paterson, Passaic, New Jersey.
---
Siblings: brothers William J. Flaherty, Jr. (1902-?), veteran Francis Patrick Flaherty (1908-?), veteran Charles Alexander Flaherty (1904-1984), sisters Annie Flaherty (1901-?), Eleanor M. Flaherty (1907-?).
---
Sources: Sail; Scope of Soviet Activity; RGASPI Fond 545, Opis 6, Delo 849, ll  21, List of American Comrades that have been Repatriated as per October 15 1937; Opis 6, Delo 890, ll. 2-3 fiches; Voros-Jarama; USSDA (under Flaherty) 54:0194; Lincoln; ALBA 266 Edward Flaherty Papers; L-W Tree Ancestry.   Code A
---
Photograph: Edward O'Flaherty, Photograph from New England Fights for Democracy.