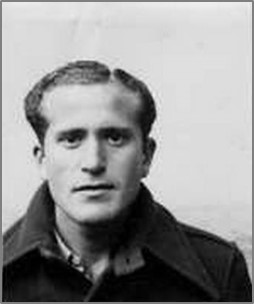 b.March 24, 1912, NYC; High school education; Single; Newspaperman and WPA Teacher; CP 1935; received passport# 866429 on February 10, 1937 which listed his address as 1815 Grand Concourse, Bronx, New York (61 E 11th Street, NYC); Sailed February 20, 1937 aboard the Ile de France; Arrived in Spain on April 2, 1937; Served with the XV BDE, Washington BN, WIA Brunete; Lincoln-Washington BN, Section Leader, Belchite; Staff of BDE Paper; Tarazona, Cultural Commission; German Anti-Aircraft unit "Dimitrov", 14th Battery DECA, rank SARGENTO; Returned to the US on December 20, 1938 aboard the Ausonia; WWII US Army, Anti-Aircraft Unit, European Theater of Operations, later clerk in division command; d. September 24, 2003, Boca Raton, Florida.
Source
Sail, SACB, Cadre, RA, ALBA 068 Edward Isaac Lending Papers; Good Fight C; Harriman; Brooks; (obituary) The Volunteer, Volume 25, No. 4, December 2003, p. 21.
Photograph
Ed Lending in Spain, RA Fond 545, Opis 6, Delo 932.
Biography
Isaac Edward Lending was born March 24, 1912 and raised in the Bronx. His father, who ran a textile trimmings business, was a religious Jew and early member of the Zionist Organization of America. As a young man, Lending switched the order of his first and middle names, and was known thereafter as Edward Isaac Lending.Lending studied journalism and business at City College of New York and New York University, but never completed his degree. In 1935 he joined the Communist Party and in 1937, at 27 years old, he departed for Spain aboard the Ile de France to join the International Brigades in fighting the Spanish Civil War. Over the next 21 months, Lending played a variety of roles in the war. He fought and was wounded in the Battle of Brunete. When he recovered, he was promoted to sergeant and fought in the Battles of Quinto and Belchite. In a break from fighting, Lending edited Brigade newspaper Our Fight and worked with volunteer Robert Steck in the Cultural Commission organizing a theatrical troop to entertain rearguard units. In December 1937, Lending volunteered for anti-aircraft service, joining the German Dimitrov Battery in the air defense of Barcelona.After returning to the U.S. in December 1938, Lending became a member of the Executive Board of the Veterans of the Abraham Brigade (VALB). In 1943, he enlisted in the U.S. Army and served in World War II, putting his anti-aircraft experience to use in Belgium and Holland. During Lending's service an Army Service Forces investigation reported on his political activities. The report concluded that Lending was to be barred from attending Officer Candidate School as well as from performing a host of security-related duties. He was, however, granted an honorable discharge in 1946.Lending pursued his political goals through journalism and public speaking, meanwhile making his living in sales and advertising in New York City. He married Jean Strunsky in 1949 and lived in Mexico City between 1950 and 1952. In 1960 he married Florence Davis. Their only child together died of Tay-Sachs Disease at age three.While Lending had been devoted to the Communist Party between 1935 and 1943, his disillusionment with policy dictated by Soviet Party leadership had been growing at least since the Molotov-Ribbentrop Pact in 1939 to the point where he completely severed ties with the Party in 1943. Around this time Lending also grew critical of the VALB organization for what he perceived to be its rigid political orthodoxy. He gradually distanced himself from VALB and embarked upon what became a lifelong mission to persuade his former Spanish Civil War comrades, among others, to reject the Communist Party line. He gave talks, conducted correspondence with veterans, publicly challenged VALB in its publication, the Volunteer, and wrote numerous articles and letters to editors on the issue.Another effort to which Lending devoted much time and energy was raising awareness of Jewish participation in the Spanish Civil War. Among other activities, he joined an endeavor led by veteran Irving Weissman to secure pension rights for struggling Polish Jewish veterans of the Botwin Company; and he initiated a campaign to commemorate Jewish fighters in Spain. In 1978, after a brief period managing the family textile business, Lending retired and moved with Florence to Florida. The couple made frequent trips to Israel to be with Lending's stepson and family. Lending died in Florida on September 24, 2003 at the age of 91. -courtest of Tamiment Library, NYU. To view Lending's finding aid at NYU, click here.