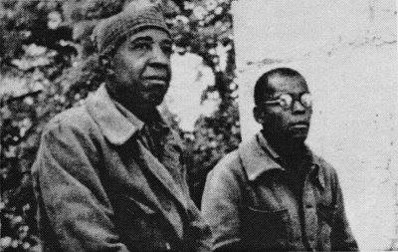 Biography
Johnson, Edward b. February 10, 1891, Lynchburg, Virginia; African American; POW; 9 years US Army including service as a cavalryman in WWI, Rank Corporal; Single; Laborer, CP 1932; Received Passport# 367415 on February 15, 1937 which listed his address as 135 Hosack Street, Columbus, Ohio; Sailed February 20, 1937 aboard the Ile de France; Arrived in Spain on March 17, 1937; Training BN, Co. 3, Section 2, Group 2; Served with the XV BDE, Washington BN, Co. 3, Section 2; Lincoln-Washington B; Rank Soldado; Reported MIA Retreats; Captured between March 10-17, 1938 Belchite, the Retreats; Exchanged April 22, 1939; Returned to the US on May 6, 1939 aboard the President Harding; WWII civilian; possible d. January 29, 1963, Columbus, Ohio.
---
Source: Sail; Scope of Soviet Activity; Cadre; BN 58 Retreats; Washington; RGASPI Fond 545, Opis 6, Delo 917, ll.72-73; Opis 6, Delo 885, ll. 21, fiche; POW; African Americans; L-W Tree Ancestry. Code A
---
Biography: Edward Johnson the son of former slaves, was born in Lynchburg, Virginia, on February 10, 1891. This made him one of the oldest U.S. volunteers. Johnson served in the U.S. Army in World War I. Afterward he worked on the railroad in London, Kentucky and in the steel mills in Columbus, Ohio. With the onset of the Depression, Johnson survived doing odd jobs. In 1932 he took part in the Communist-led National Hunger March and then joined the CPUSA. Johnson left for Europe, aboard the Ile de France, on February 20, 1937. In Spain, for a brief period Johnson served as head of the General Food Commissary and later transferred to the Lincoln Battalion. On March 10, 1938, during the Retreats, Johnson became separated from his machine gun squad and was captured outside the town of Belchite. Johnson spent the next year as a prisoner at San Pedro de Cardenas where Robert Steck, a fellow prisoner, remembered him as a man who maintained his morale even under the worst conditions. Johnson was among the seventy-one prisoners released on April 22, 1939 and returned to the United States aboard the President Harding on May 6, 1939. ~ Chris Brooks
---
Photograph: Edward Johnson and Claude Pringle while POWs.