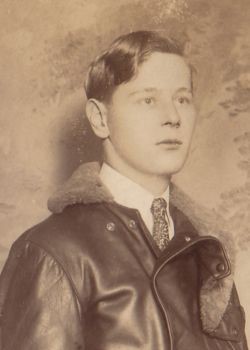 Biography
Schneider, Edward August Henry
. b. October 20, 1911, Manhattan, New York; Father Emil August Schneider (1886-1956), mother Inga Karoline Eldora Pendersen Schneider (1882-1927); Marred Gretchen Francis Hahnen Black (1902-1986) in 1934; Pilot, Received his pilots license in 1930 and was the youngest licensed pilot at that time; Held several youth transcontinental records; Served with the Republican Air force; Pilot; Flew Potez 54 bombers; Returned to the US on December 31, 1936 along with Frederick Lord, Bert Acosta, and Gordon Berry; d. December 23, 1940, Brooklyn, Kings County, NY; Died when his plane was clipped by a Navy training aircraft, buried in Fairview Memorial Park and Mausoleum, Fairview, New Jersey.
---
Sibling:
sister Alice Violetta Schneider Harms (1913-2002).
---
Sources:
Find-A-Grave# 8638926; John Carver Edwards,
Airmen Without Portfolio
, Westport, Connecticut: Praeger, 1997.
---
Photographs:
Eddie August Schneider 1930. Photograph Wikipedia; Hilaire du Berrier, Frederick Lord and Schneider in Paris after leaving Spain, clipping from Find-A-Grave.
---