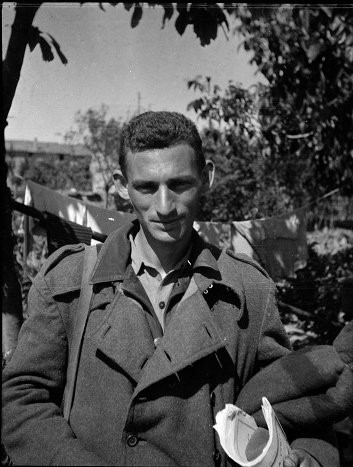 Biography
Rolfe, Edwin. (Fishman, Sol [birth name]); b. September 7, 1909, Philadelphia, Pennsylvania; Jewish; Attended City College of New York 1 year and 1.5 years at the University of Wisconsin; Married; Journalist and Poet; CP 1933 and YCL 1924 (YCL and CP 1925); Domicile 119 E. 17th Street, NYC; Arrived in Spain via Espolla on June 20, 1937; Served as the Editor for the Volunteer for Liberty; XV BDE, Lincoln-Washington BN, Co. 1 (July 1938), Cultural Director; Rank Soldado; Served at Ebro Offensive; Became the correspondent for the Daily Worker; Returned to the US on January 6, 1939 aboard the Washington; WWII Armed forces; d. May 24, 1954; Hollywood, California; Wrote the first history of the Americans in Spain, The Lincoln Battalion.
---
Sources: Cadre; Figueres List (under Fishman, Sol); Pay; RGASPI; ALBA PHOTO 010 Edwin Rolfe Photgraphs Collection; Edwin Rolfe, The Lincoln Battalion; L-W Tree Ancestry. Code A
---
Photograph: Edwin Rolfe, ALBA.