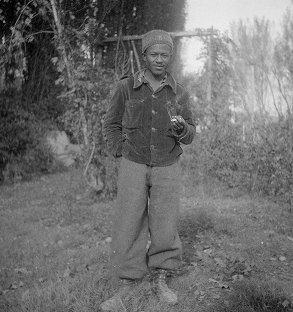 Biography
Taylor, Elijah Joseph, Jr
. b. July 1, 1907, Griffin, Georgia; African American; Father Elijah Joseph Taylor (1881-?), mother Zernice, or Zermia Stephens (1887-?); 7 years elementary school; No prior military service; Single; Machinist; February 1934 YCL, November 1935 CP; Received Passport# 429934 on June 1, 1937 which listed his address as 82 East 10th Street, NYC; Sailed June 5, 1937 aboard the
Lancastria
; Arrived in Spain via Espolla on June 20, 1937; Served with the XV BDE, Lincoln-Washington BN, Co. 3, Section Leader, acting Teniente; Later Brigade Scouts; Last unit Lincoln-Washington BN, Co. 3 and Co. 5; Rank Cabo; Served at Belchite, Fuentes de Ebro, The Retreats, and the Ebro Offensive; WIA Gandesa, Ebro Offensive; Returned to the US on December 20, 1938 aboard the
Ausonia
; WWII US Army, Quartermaster Corp 4338 Service Company, Rank Staff Sergeant; d. December 24, 1960 in Fredericksburg, Virginia, buried in Griffin Cemetery, Griffin, Georgia.
---
Siblings:
brother Rufus S. Taylor (1911-?), sister Geraldine Taylor (1915-?).
---
Sources:
Sail; Scope of Soviet Activity; Figueres List; RGASPI Fond 545, Opis 3, Delo 453, ll. 83 - List Co. 2 dated March 13, 1938; RGASPI Fond 545, Opis 6, Delo 571, ll. 15 (fiche – states Mac-Paps may have trained with them); Opis 6, Delo 999, ll. 18-38; African Americans; L-W Tree; Find-a-Grave #32374805. Code A
---
Biography: 
Joseph Taylor was born in Griffin, Georgia on July 1, 1907. The family later moved to New York where Taylor worked as a machinist. He joined the YCL in 1934 and the Communist Party in November 1935. Taylor departed for Spain, aboard the
Lancastria
, on June 5, 1937. After training, Taylor was assigned to the Brigade Scouts. Wounded during the battle of Belchite he was hospitalized at Benicasim. After he recovered, Taylor was sent to the Lincoln-Washington Battalion where he rose to the rank of sergeant. Wounded once again during the Ebro Offensive, Taylor spent the rest of the war in hospitals. He returned to the United States, aboard the
Ausonia
, on December 20, 1938. During World War II, Taylor served in the U.S. Army, assigned to a Medical Sanitary Company in North Carolina. He later resettled in New York, where he lived until his death. ~ Chris Brooks
---
Photographs:
Joseph Taylor, Brigade scout, December 1937. The 15th International Brigade Photographic Unit Photograph Collection; ALBA Photo 11; ALBA Photo number 11-0659. Tamiment Library/Robert F. Wagner Labor Archives. Elmer Holmes Bobst Library, 70 Washington Square South, New York, NY 10012, New York University Libraries; RGASPI Fond 545, Opis 6, Delo 999, ll. 20.
---