Biography
k-Wendkos, Leon Elkan
b. Philadelphia, Pennsylvania; Jewish; Single; Graduated from Townsend Harris High School in 1935; Student at City College of NY; YCL 1935, Sect. Com.; Received Passport# 367629 on February 17, 1937 which listed his address as 673 Broadway, NYC; 24 years old; Sailed March 12, 1937 aboard the
Ile de France
; Arrived in Spain on March 17, 1937; Served with the XV BDE, Lincoln-Washington BN, MG Company; Rank Soldado; KIA March 10, 1938, Belchite during the Retreats; Elkan's mother died when he was 2 and his father died when he was 12, he moved to NYC with his grandparents; May have taken journalism classes at Columbia as well.
---
Sources:
Scope of Soviet Activity; Cadre; BN 58 Retreats; USSDA 2:1036, 61:0765, Letter to the Editor from Dr.Lawrence I Seidman,
The Volunteer
, v. 12, n. 1, May 1990, p. 27. Code A
---
Photographs:
Elkan Wendkos, Machine-gun Company, Lincoln-Washington, September 1937. The 15th International Brigade Photographic Unit Photograph Collection; ALBA Photo 11; ALBA Photo number 11-0612. Tamiment Library/Robert F. Wagner Labor Archives. Elmer Holmes Bobst Library, 70 Washington Square South, New York, NY 10012, New York University Libraries; and Elkan Wendkos with his Uncle George Rabin in 1934. Photograph from the Seidman family collection. .
---
[caption id="attachment_7680" align="alignnone" width="308"]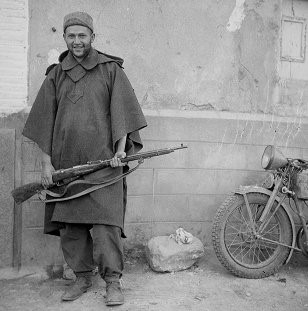 Elkan Wendkos, Machine-gun Company, Lincoln-Washington, September 1937. The 15th International Brigade Photographic Unit Photograph Collection; ALBA Photo 11; ALBA Photo number 11-0612. Tamiment Library/Robert F. Wagner Labor Archives. Elmer Holmes Bobst Library, 70 Washington Square South, New York, NY 10012, New York University Libraries[/caption] [caption id="attachment_22349" align="alignnone" width="367"]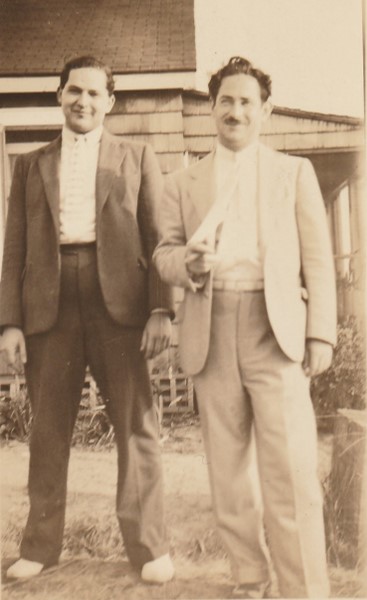 Elkan Wendkos with his Uncle George Rabin in 1934. Photograph from the Seidman family collection.[/caption]