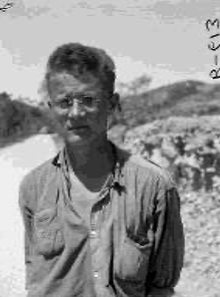 Biography
Service, Elman Roger. (R. Alman Service); b. May 18, 1917, Tecumseh, Michigan; Jewish; father J. O. Service; Took correspondence courses from the University of Michigan; No prior military service; Single; Student, Writer, and Aircraft worker; CP January 1937 and YCL 1936, Member of the American Student Union; Received Passport# 441877 on June 14, 1937 which listed his address as 202 East Pottawatomie, Tecumseh, Michigan; Sailed June 18, 1937 aboard the Alaunia; Arrived in Spain via Setcases on July 5, 1937; Trained at Tarazona; Served with the XV Brigade, Lincoln- Washington Battalion, Kitchen; BDE Auto Park; Service Sanitaire; Lincoln-Washington Battalion, Co. 1 and Co. 3; Last unit Co. 3; Rank Cabo; Served at Quinto, Belchite, Teruel, the Retreats, and the Ebro Offensive; WIA July 30, 1938 Ebro hit in chest during an attack near Gandesa, in hospital La Garriga July 31, 1938 to August 25, 1938 then to Vich still there as of November 21, 1938; Was hospitalized two earlier times September/October at Hijar for 3 weeks; and Mora de Rubielos, Castellon, Benicassim during February and March 1938; Returned to the US on December 15, 1938 aboard the Paris; WWII US Army, reconnaissance and aerial mapping unit, ETO, France; d. November 15, 1996, Santa Barbara, California.
---
Sources: Sail; Scope of Soviet Activity; Cadre; Figueres List; Pay; RGASPI Fond 545, Opis 6, Delo 985, ll. 42-47; (obituary) Thomas H. Harding, "Elman Rogers Service (1915-1996)" American Anthropologist, March 1999. Vol. 101 (2:15): 161-164.;
---
Photograph: Corporal Elman Service, Lincoln-Washington activist, May 1938. The 15th International Brigade Photographic Unit Photograph Collection; ALBA Photo 11; ALBA Photo number 11-0224. Tamiment Library/Robert F. Wagner Labor Archives. Elmer Holmes Bobst Library, 70 Washington Square South, New York, NY 10012, New York University Libraries.