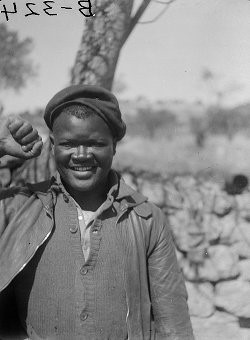 Biography
McDaniels, Eluard Luchell. ("El Fantastico"); b. April 16, 1912, Lumberton, Mississipi; African American; father Ellis McDaniel; Single; Machinist; ILA, League of American Writers; CP 1930, organizer sharecroppers; Received Passport# 29525, , San Francisco series,, on June 12, 1937 which listed his address as 1116 Stockton Street, and 2833 Sacremento Street, both San Francisco, California (Lumberton, Mississipi); Sailed June 25, 1937 aboard the Ausonia; Arrived in Spain via Massanet on July 11, 1937; Served with the 1st Evacuation Group, as a Driver picked up ambulances at Port Bou on August 6, 1937; Later transferred to the XV BDE Mackenzie-Papineau BN, served at Teruel; Then to Lincoln-Washington BN; Reported MIA Retreats, with note "fue al hospital despues de cruzar el rio" (went to hospital after crossing the river)," and Ebro Offensive, Mackenzie-Papineau BN, Co. 4, Platoon Sargento, WIA July 20, 1938 during a night attack on Hill 482;  Rank Sargento; Returned to the US on December 31, 1938 aboard the President Harding; Married Lee D. Richardson (1927-?) on August 7, 1968 in Yolo, California; WWII Merchant Marines and US Army, enlisted September 17, 1942, released June 22, 1943; d. December 6, 1985, Sacremento, California, buried Camellia Memorioal Lawn Cemetery, Sacramento, California.
---
Sources: Sail; Scope of Soviet Activity; BN 58 Retreats; Cadre; Figueres List; RGASPI Fond 545, Opis 6, Delo 940, ll. 52-58; African Americans; L-W Tree Ancestry; Find-a- Grave #161955265. Code A
---
Photograph: Eluard Luchell McDaniels, March 1938. The 15th International Brigade Photographic Unit Photograph Collection; ALBA Photo 11; ALBA Photo number 11-0127. Tamiment Library/Robert F. Wagner Labor Archives. Elmer Holmes Bobst Library, 70 Washington Square South, New York, NY 10012, New York University Libraries.