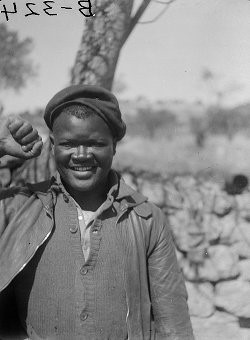 Biography
McDaniels, Eluard Luchell
. ("El Fantastico"); b. April 16, 1912, Lumberton, Mississippi; African American; Father Ellis McDaniel; Single; Machinist; ILA, League of American Writers; CP 1930, organizer sharecroppers; Received Passport# 29525, San Francisco series, on June 12, 1937 which listed his address as 1116 Stockton Street, and 2833 Sacramento Street, both San Francisco, California (Lumberton, Mississippi); Sailed June 25, 1937 aboard the
Ausonia
; Arrived in Spain via Massanet on July 11, 1937; Served with the 1st Evacuation Group, as a Driver picked up ambulances at Port Bou on August 6, 1937; Later transferred to the XV BDE Mackenzie-Papineau BN, served at Teruel; Then to Lincoln-Washington BN; Reported MIA Retreats, with note "fue al hospital despues de cruzar el rio" (went to hospital after crossing the river); Ebro Offensive, Mackenzie-Papineau BN, Co. 4, Platoon Sargento; WIA July 20, 1938 during a night attack on Hill 482;  Rank Sargento; Returned to the US on December 31, 1938 aboard the
President Harding
; Married Lee D. Richardson (1927-?) on August 7, 1968 in Yolo, California; WWII Merchant Marines and US Army, enlisted September 17, 1942, released June 22, 1943; d. December 6, 1985, Sacramento, California, buried in Camellia Memorial Lawn Cemetery, Sacramento, California.
---
Sources:
Sail; Scope of Soviet Activity; BN 58 Retreats; Cadre; Figueres List; RGASPI Fond 545, Opis 6, Delo 940, ll. 52-58; African Americans; L-W Tree Ancestry; Find-a- Grave #161955265. Code A
---
Biography: 
Eluard Luchell McDaniels was born in Mississippi in 1912. He left home at an early age and made his way to California. In San Francisco, Consuelo Kanaga, a well-known photographer, took him in. Under her tutelage McDaniels completed high school and studied art at San Francisco State College. While living in San Francisco, McDaniels developed ties to the labor movement and the Communist party, which he joined in 1930. In the early years of the Great Depression, he returned to the South to help organize the Alabama Sharecroppers' Union. He was also involved in the Federal Writers Project of the WPA and published short stories in a WPA publication "Just Stuff." McDaniels traveled to Europe aboard the
Ausonia
on June 25, 1937. In Spain, McDaniels was assigned to a transport unit as a truck driver. In early in 1938 he was transferred as an infantryman to the Mackenzie-Papineau Battalion and eventually to the Lincoln-Washington Battalion. During the Ebro Offensive Spanish Loyalist troops, awed by his prowess at grenade pitching, gave McDaniels the nickname "El Fantastico." Wounded in his left leg he spent the remainder of his time in Spain in hospitals. He returned to the United States on the
President Harding
, on December 31, 1938. McDaniels returned to San Francisco, joined the Merchant Marine and worked as a cook. In 1940, he was elected to the post of Adjutant Commander of the VALB. During the Red Scare of the 1950s, the Coast Guard screened him from the Merchant Marine. McDaniels found employment at a factory in San Francisco and worked there until his retirement. He died on December 6, 1985. ~ Chris Brooks
---
Photograph:
Eluard Luchell McDaniels, March 1938. The 15th International Brigade Photographic Unit Photograph Collection; ALBA Photo 11; ALBA Photo number 11-0127. Tamiment Library/Robert F. Wagner Labor Archives. Elmer Holmes Bobst Library, 70 Washington Square South, New York, NY 10012, New York University Libraries.; Eluard Luchell McDaniels, 1982 Sacramento, by Richard Bermack.
---