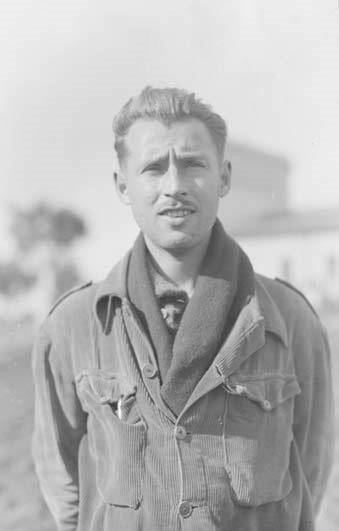 Biography
Sack, Ely Joseph. b. September 19, 1915, Brooklyn, New York; Jewish; 2 years City College of New York; Single; Accountant and Bookkeeper; CP May 1936 (1935); Received Passport# 398004 (2984) on April 26, 1937 which listed his address as 8201 Bay Parkway, and 8678 Bay Parkway, both Brooklyn, New York; Sailed May 15, 1937 aboard the Georgic; Arrived in Spain via Espolla on June 10, 1937; Served with the XV Brigade, Mackenzie Papineau Battalion, Battalion Staff, Runner; Served at Fuentes de Ebro; OTS, left before completing course; Returned to Mackenzie-Papineau Battalion, Staff, Observer; Served at Fuentes de Ebro, Teruel and the Retreats; WIA Caspe; Returned to the US on August 28, 1938 aboard the De Grasse; WWII Served in the Civil Defense Organization as a Firewarden; d. December 29, 2001, Encino, California.
---
Sources: Sail; Scope of Soviet Activity; Cadre; Figueres List; Mac-Pap; RGASPI; ALBA 194 Ely J. Sack Papers; BSCWC Memoir (obituary) The Volunteer, Volume 24, No. 1, March 2002, p. 21; L-W Tree Ancestry.
---
Biography: Ely Joseph Sack was born September 19, 1915 in Brooklyn, New York to Russian Jewish immigrant parents. After graduating from New Utrecht High School in 1931, Sack worked at low-paying day jobs while attending night classes in accounting at the City College of New York School of Commerce. Sack left the United States aboard the M/V Georgic to England on May 15, 1937. From England he traveled through France and over the Pyrenees to Spain to fight for the Republican cause in the Spanish Civil War. Sack trained at Tarazona de la Mancha between June and September 1937. In September 1937 his unit of the MacKenzie-Papineau Battalion served a reserve unit, then went into combat at Fuentes del Ebro in October, 1937. Sack spent some time in Officer's Training School in November, 1937 but returned to fighting with his unit after about a month. In March, 1938 Sack was wounded in his left leg and was disabled for the remainder of his time in Spain. Sack was first treated in Tortosa then in Benacasim where he had an operation to remove shrapnel from his left leg and tetanus from his right leg. He spent time healing in Murcia. He was later moved to Mataro where his left leg was operated on twice more in May, 1938. Sack was discharged and repatriated in July, 1938. Sack returned to the United States via France on the S.S. De Grasse in August, 1938. Upon his return, Sack married Edith Berk, whom he had met in 1935. In 1939 the couple moved to Jacksonville, Florida where they raised five children while Sack worked as an accountant. In 1972 they moved to Miami, and they also lived for a short time in the early 1980s in Birmingham, Alabama. Sack continued to work in accounting well into his seventies. ~ Courtesy Tammiment Library, NYU.
---
Photograph: Ely Sack, Mackenzie-Papineau Battalion, December 1937. The 15th International Brigade Photographic Unit Photograph Collection ; ALBA Photo011; ALBA Photo number 11-0897. Tamiment Library/Robert F. Wagner Labor Archives. Elmer Holmes Bobst Library, 70 Washington Square South, New York, NY 10012, New York University Libraries.