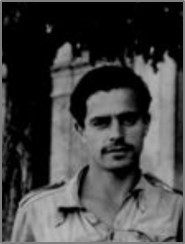 Biography
Harriman; Emanuel
(Nahman, Sam; "Manny"); b. January 19, 1919, NYC; Father Herman Nahman, mother Jennie Nahman; Grammar School education; Prior military service with US Army New York National Guard, 71st Regiment, October 1937-May 1938; Single; Construction Worker; CP; Received Passport# 529855 on May 11, 1938 which listed his address as 49 East 102nd Street, NYC; Arrived in Figueres via Massanet on May 29, 1938; To 35th Division Training Base Mont Blank June 4, 1938; Served with the XV BDE, Mackenzie-Papineau BN, Co. 4; Later BDE Transmissiones; Served at Ebro Offensive; WIA August 1, 1938 near Gandesa, hit in thigh, hospitals Valcarca August 2 to 8, Mataro August 8 to 29, and Vich August 29 to 31; Returned to the US on December 15, 1938 aboard the Paris; WWII Armed forces; d. January 22, 1997, buried in Los Angeles National Cemetery; Harriman conducted an Oral History project where he interviewed many of his fellow veterans.
---
Biography:
" EMANUEL HARRIMAN 19 Jan 1919 to 22 Jan 1997 (Inglewood, Los Angeles, CA) Pennsylvania --- Manny Harriman was born Samuel Nahman on January 19, 1919 in Manhattan to Haim (Herman) Nahman, a shoemaker, and Jennie Nahman. He was the middle one of five children. His parents had both been born in Turkey and were of Sephardic Jewish heritage. Harriman attended school until his early teens, when in the midst of the Great Depression, he began to work with his father in order to help support the family. During the thirties, Harriman was employed as both a shoemaker and a construction worker, and worked on various WPA projects. During this period, he became politically active in New York City, joining the Young Communist League in 1935 and continuing to participate until his departure for Spain. He was also involved with the Workers Alliance and Federation Settlement and participated in strikes of WPA and shoe store workers. A member of a strongly anti-fascist and politically active family, Harriman volunteered to fight in the Spanish Civil War at age nineteen and left for Spain on May 14, 1938. He was among the last U.S. volunteers to arrive in Spain. He served as a machine gunner. On August 1, 1938, during the attack on Gandesa, he was wounded, and spent almost a month recovering. He returned to the front in September 1938 and fought in the Ebro offensive. During his last days in Spain, he served in Battalion Transmissions. Harriman returned to the United States on the
SS Paris
on December 15, 1938. He worked as a machinist and had two children with his wife, Celia Harriman. Drafted in 1942, he served in the U.S. Army Air Corps during World War II. His craft was shot down over Italy, and he spent over a year as a POW in a prison camp in northern Germany. Liberated by the Russians on May 1, 1945, he was later awarded a Purple Heart and the Air Medal. Following World War II, he began an apprenticeship as a tool and die maker under sponsorship from the G.I. Bill, and worked in this trade until 1959. In 1956, during the McCarthy period, he changed his name from Samuel Nahman to Manny Harriman in an attempt to avoid harassment. In addition to forming his own manufacturing business in 1960, Harriman ran a small publishing firm, called The Camelot Publishing Company, along with fellow Abraham Lincoln Brigade veteran Arthur H. Landis. Harriman helped with research for Landis' book Spain! The Unfinished Revolution, published by Camelot in 1972. In 1972, Harriman briefly retired and then returned to tool and die making for several years. He eventually settled in Los Angeles. In 1977, he participated in a trip with seven other veterans to Spain, where they toured Spanish Civil War battlefields. As a result of this trip, Harriman became more involved in Veterans of the Abraham Lincoln Brigades (VALB) and interested in documenting the veterans' histories. He served as editor of
The Volunteer
, the VALB newsletter, from 1978 until 1983. Following another trip to Spain in 1983, Harriman set out to record the oral histories of all of the remaining veterans, whom he estimated to number 350. He was concerned that only a handful of veterans' personal histories were well documented. The videotaping project began in earnest in 1985. Landis and Harriman pitched the idea to Donald (Don) MacLeod, San Francisco Post Historian, Edward (Ed) Bender, San Francisco Post Secretary, and Faiga Duncan, widow of veteran Lowell Duncan. They extended their support, were active in the production process, and provided housing in San Francisco during taping sessions. Along with Landis, Harriman created a questionnaire for use during interviews (see project files in ALBA # 48) that traced the veterans' personal histories from their parents' ancestry to their return from World War II and sought to discover the effects of their participation in the Spanish Civil War on the rest of their lives. According to project files, each interviewee was to receive the questionnaire before being interviewed. Harriman's brother, Ben Nahman, his second wife, Debby Harriman, and LaVerne Grell, son of veteran Fritz Grell, were also active in the production process. Along with these project volunteers, Harriman began by interviewing 76 veterans in the San Francisco area. Other veterans were interviewed in Los Angeles, San Diego, Washington, New York, Oklahoma, and along the East Coast. The majority of West Coast interviews were completed by early 1986, and New York area interviews were conducted from the summer of 1986 to early 1987. While Harriman conducted the majority of interviews himself, it appears from project correspondence that Duncan and MacLeod may also have served as interviewers. Harriman completed a large portion of the West Coast and New York interviews he had planned, but it appears that he did not complete the entire project as envisioned. He had hoped, for example, to travel to Spain to interview veterans living there, but never made the trip. The project may have been cut short due to lack of funds. Harriman financed much of the project himself and with his family, and received some support from other veterans. He did not, it appears, receive financial assistance from the national office of VALB, though he had at first anticipated receiving such funding. The National Resident Board of VALB and the National Historical Commission both endorsed the project. These endorsements were particularly important in securing veterans' willingness to be interviewed, as several of them were involved at that time in aid to Nicaragua and were fearful of FBI harassment. By early 1987, Harriman and his team had completed approximately 185 separate interviews (comprising at least 218 videocassettes), covering the personal histories of more than 180 veterans. Manny Harriman died on January 22, 1997. - Courtesy of Tamiment Library, NYU. The Harriman Collection.
---
Sources:
Scope of Soviet Activity; Figueres List; RGASPI (under Nahman) Opis 6, Delo 952, ll. 25-37; ALBA 48 Manny Harriman Papers; Find-a-Grave# 756007. Code A
---
Manny Harriman Interview
, Manny Harriman Video Oral History Collection; ALBA VIDEO 048; Tamiment Library/Robert F. Wagner Labor Archives, New York University.
Photographs:
Manny Harriman in Spain, RGASPI Fond 545, Opis 6, Delo 952 (under Nahman).
---