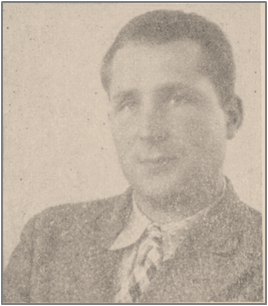 Biography
Aalto, Erick (Erkki); b. June 26, 1912, Porin mlk (Pori Rural Commune), Helsinki, Finland; Finnish American; Seaman; CP; Domicile Canterbury, Connecticut; Sailed September 4, 1937 aboard the Champlain; Served with the XV BDE, Lincoln-Washington BN; Attended MG school at Pozo Rubio; Lincoln-Washington MG Co; Served at Teruel; WIA by shrapnel in leg; After leaving Spain he was unable to return to the US instead returned to Finland; WWII Drafted into Finnish military as able bodied seaman on ice-breaker Tarmo; Killed when the Tarmo was bombed January 18, 1940; Buried in Kotka Church Park, Kotka, Finland.
---
Source: Inventory North Americans (under Alto); XV BDE; Finnish; MPE; L-W Tree Ancestry.
---
Photograph: Erick Aalto. Meidän Poikamme Espanjassa (Our Boys in Spain).