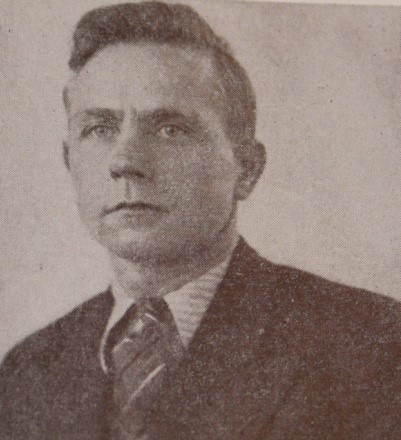 Biography
Martikainen, Erkki Antero. (Erkie); b. July 9 (10), 1906, Kotkassa, Finland (September 7, 1906); Finnish American; 2 years Elementary School; No military experience; Single; Carpenter and Driver; Domicile 10926 Union Hall Street, Jamaica, Long Island, New York; CP of Spain, American Federation of Labor; Travelled on a Finnish Passport issued in the US; Sailed March 13, 1937; Arrived in Spain on April 2, 1937 crossing the Pyrenees; Served with the XV BDE, Lincoln BN, transferred to Albacete Auto Park; Assigned to XIII BDE on March 21, 1937, Driver, served on Southern Front; Remained with the BDE during Brunete serving as an ambulance driver; Transferred to XIV BDE Transport on August 10, 1937, badly injured in an accident when he was squashed between a truck and a tree; After recovering he joined XV BDE, Mackenzie-Papineau BN, Co. 2 on June 18, 1938, He was hospitalized during summer of 1938; Last unit Mackenzie-Papineau BN, Plaza Mayor, Armory and Cocina; Rank Soldado; Served at Cordoba March 23, 1937 to June 30, 1937 as a driver; Sierra July 5, 1937 to November 13, 1937 as a driver; Toledo November 14, 1937 to December 1, 1937 as a driver; Sierra December 2, 1937 to Mach 13, 1938 as a driver; Aragon March 15, 1938 to March 27, 1938, Ebro Offensive (Gandesa-Corbera, Sierra Pandols and Sierra Caballs) July 25, 1938 to September 24, 1938, Armory; WIA August 17, 1938, Sierra Pandols, Ebro Offensive by shrapnel in right arms and both legs from a mortar, Vals Hospital from August 18, 1938 for 12 days; Was briefly held in a French concentration camp; Returned to the US on August 17, 1939 aboard the Manhattan; d. April 14, 1942, Fort Meade, Maryland.
---
Sources: Pay; RGASPI Fond 545, Opis 6, Delo 1030, ll. 13-17, 40-; Finnish, Jyrki Juusela; MPE;L-W Tree Ancestry.
---
Photograph: Erkki Martikainen. Meidän Poikamme Espanjassa (Our Boys in Spain).