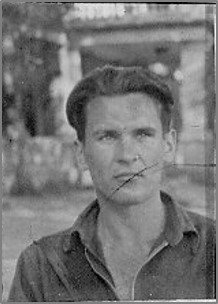 Biography
Amatniek, Ernest
(Alva,Ernest; Amat, Ernest); b. December 5, 1914 (1915), Talin, Estonia; Lived in Latvia until age 13; Arrived in the US in October 1929; Estonian American; mother Anna Amatniek; Attended James Monroe High School in the Bronx and the City College of New York where he studied electrical engineering; No prior military service; Single; Photographic Processor (Lithographer) and Radio Technician; YCL 1931 (1932), Branch Education Director, and organizer, Spanish CP, President American Student Union, Federation of Architects, Engineers, Chemists, and Technicians (received membership in Spain); Received Passport# 364435 on June 20, 1937 which listed his address as 214 East Mount Eden Avenue, and 315 East Mount Eden Avenue, both Bronx, New York; Arrived in Spain on February 14, 1937 and entered the IB on February 17, 1937; Trained with the BN of Instructions #2 June 28-September 8, 1937; Served with the XV BDE, Mackenzie-Papineau BN, Transmissions Section September 8-October 13, 1937; After returning from hospital circa April 1, 1938 to April 15, 1938 assigned to Tarazona as an instructor, then back to XV BDE Observers from April 15, 1938 to May 2, 1938, then to BDE Transmissiones Co. from July 15 to September 23, 1938; Rank Sargento; Served at Fuentes de Ebro, and Ebro Offensive (Gandesa); WIA October 13, 1938 hit in the left leg by a bullet while laying a line from BDE to BN; Hospitalized in Azaila, Tarragona, Benicasim, Murcia, Orihuela, Murcia, Mattaro and St. Coloma October 13, 1937 to April 1, 1938; Returned to the US on December 20, 1938 aboard the
Ausonia
; WWII Civilian; Married Sara Berline (1922-1996) in 1949, two children; d. April 9, 2005, Bucks County, Pennsylvania, cremated; His ashes were buried in Woods Hole, Massachusetts; Spoke English, Latvian and some German.
---
Sibling:
brother Karl Amatniek.
---
Source:
Scope of Soviet Activity; Cadre; Inventory North Americans; Americans Mac-Paps; RGASPI Fond 545, Opis 6, Delo 541; Opis 6, Delo 857, ll. 14-23; Letter from Sara Amatniek; (obituary) Chris Brooks, "Ernest Amatniek, 1915-2005," The Volunteer, Volume 27, No. 2, June 2005, p. 20; L-W Tree Ancestry L-W Tree.
---
Biography
Born in Tallin, Estonia, to Latvian parents who were naturalized citizens, Amatniek came to the U.S. at the age of 14. He attended James Monroe High School in the Bronx and City College, where he studied electrical engineering. He served with the Lincoln battalion in the signal corps in Spain. During World War II, he designed and put into production radar identification equipment for the Navy. Ernie later worked at the neurophysiology laboratory of Columbia University's Medical School, the College of Physicians and Surgeons, during the 1950s. While there, he developed a compact, wide band electrometer amplifier, also called a neutralized input capacitance amplifier. In the 1960s, he founded and was president of Bioelectric Instruments of Yonkers, a company that was sold in 1970. Lincoln vet Ted Veltfort worked with him there. Later, Ernie was a consulting engineer in neurophysiology laboratories at the Mount Sinai and Albert Einstein Colleges of Medicine, as well as at Columbia. Ernie married artist and art teacher Sara Berlin in 1949. Lincoln vet Ernest Amatniek died on April 9, 2005, in Bucks County, Pennsylvania. He was 89. - Chris Brooks
---
Photographs:
Ernest Amatniek in Spain, Fond 545, Opis 6, Delo 857; and Transmiciones, August 1938. The 15th International Brigade Photographic Unit Photograph Collection; ALBA Photo 11; ALBA Photo number 11-0236. Tamiment Library/Robert F. Wagner Labor Archives. Elmer Holmes Bobst Library, 70 Washington Square South, New York, NY 10012, New York University Libraries.; Earnest Amatniek, by Richard Bermack.
---