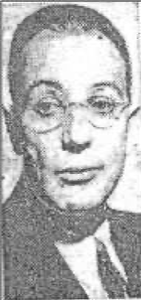 Biography
Schmitt, Ernest Anthony. (Antonio Schmidt; Ernest Schmidt); b. December 20, 1897 (1898), Milwaukee, Wisconsin; 2 years High School; Married (Seperated), 3 children Geraldine, Mary, and Thomas; Bookseller, Bookkeeper, and WPA; Chairman Branch No. 18 of the Wisconsin Workers Alliance; CP 1935; Received Passport# 412781 on May 14, 1937 which listed his address as 641 North 10th Street, Milwaukee, Wisconsin (4225 W. Garfield Avenue, Milwaukee, Wisconsin); Sailed May 26, 1937 aboard the Vollendam; Arrested on June 20, 1937 when the vessel he was traveling to Spain on, the Joven Teresa, was intercepted by the French aviso Granit near Port-Vendres; Arrived in Spain via Massanet on June 22, 1937; Served with the XV Brigade, in training with Mackenzie-Papineau Battalion; Sent to Brigade; Served at Quinto, and Belchite; WIA September 4, 1937, hit in right thigh; Returned to the US on July 2, 1938 aboard the President Harding; d. February 2, 1962, Milwaukee, Wisconsin, buried in Mount Olivet Cemetery, Milwaukee, Wisconsin; Was arrested for abandoning his wife and child on his return.
---
Sources: Sail; Scope of Soviet Activity; Cadre (under Antonio Schmitt); Figueres List; Mac-Pap; RGASPI; Joven Teresa list from a letter from Jean Massé to Jim Carmody dated November 30, 1988; "Home From Spain, Tells of Meeting 15 Milwaukeeans" Clipping, L-W Tree Ancestry.
---
Photograph: Ernest Anthony Schmitt, Clipping.