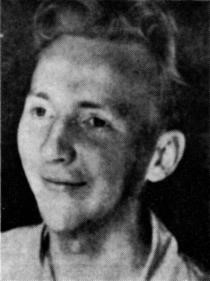 Biography
Erber, Ernest Ewald b. September 27, 1913, Chicago, Illinois; Education ended in his junior year of High School; Leader of the Young People's Socialist League (YPSL) and Socialist Party; Received Passport# 6578 which listed his address as 4340 N. Lavergne Avenue, Chicago, Illinois; In Spain Erber served as the political representative of the American Socialists in Spain; Returned to the US on November 20, 1936 aboard the Lafayette (More likely this is his return from Switzerland, but it is unclear); d. February 15, 2010, Bronx, New York, buried in Montrepose Cemetery, Kingston, Ulster County, New York.
---
Source: RGASPI Fond 545, Fond 545, Opis 6, Delo 886, ll. 53. (fiche); L-W Tree Ancestry; Find-a-Grave# 34376935 (entry is under his wife Sylvia Schwartz Erber 1917-2008). Code A
---
Photograph: Ernest Erber undated. Photograph from the Marxist Internet Archive Photo Gallery.