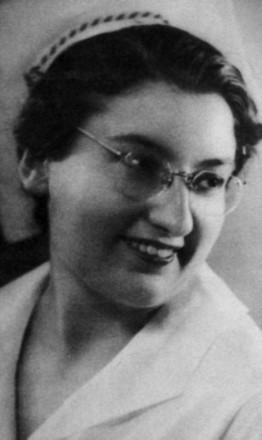 Biography
Silverstein, Ester Miriam. b. August 3, 1915, Goshen County, Wyoming; Jewish; AMB; Graduated from Mitchell High School then attended the University of California where she studied nursing; Single; Nurse in the Marine Hospital in San Francisco; Received Passport# 414727 on May 17, 1937 which listed her address as 538 29th Avenue, San Francisco, California; Sailed May 1937 aboard the Normandie; Arrived in Spain on May 19, 1937; Served with the Medical Services, Sanitary Corps, English Hospital, Hueta; 35th International Division Sanitary Corps; Returned to the US on July 1, 1938 aboard the Champlain; Married Richard Blanc January 25, 1941; WWII US Army Nurse Corps, Utica, New York and Dayton, Ohio. Rank 2nd Lieutenant; d. April 22, 1997, San Francisco, California; completed a PhD.
---
Sources: Sail; Scope of Soviet Activity; Repatriation List (5/23/1938, ll. 191); RGASPI; ARP Survey; Peter Carroll, "SCW Nurse Esther Blanc, Storyteller," The Volunteer, Volume 26, No. 1, March 2004, p. 18; L-W Tree Ancestry.
---
Photograph: Esther Blanc. VALB/ALBA.