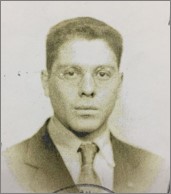 Biography
k-Bronstein, Eugene David August 24, 1914, New York, New York; Russian American; father Anatole Bronstein (April 14, 1882, Russia), mother Lizzie Bronstein (1886-?); No prior military service; Rubber Worker; CP 1934 and YCL; Received Passport# 370962 on March 2, 1937 which listed his address as 161 Columbia Street, Cambridge, Massachusetts; Sailed March 10, 1938 aboard the Washington; Arrived in Spain on March 31, 1937; Served with the XV BDE, George Washington BN, Co. 2, Section 1; Killed in action July 7, 1937, Brunete, killed during an air attack during the approach march; Spoke English, French; and German.
---
Sibling: brother Daniel (1909-?).
---
Source: Scope of Soviet Activity; Americans; Americans and Canadians Killed in Spain Complete list to November 15, 1937; Washington. Code A
---
Photograph: Eugene David Bronstein passport photograph.