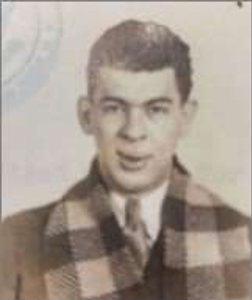 Biography
k-Loveman, Eugene Jacob. b. May 5, 1912, Bronx, New York; Father Morris Loveman (1874-1933, b. Austria), mother Malvina Goldberger Loveman (1887-1921); Art Student; Received Passport# 368899 on February 23, 1937 which listed his address as 1900 82nd Street, Brooklyn, New York; Sailed March 10, 1937 aboard the Washington; Served with the XV BDE, WIA (Belchite?) attended OTS; Lincoln-Washington BN; Rank Soldado; Reported MIA March 30, 1938, Gandesa, during the Retreats.
---
Siblings: brother Irving J. Loveman (1902-1986), sister Betty Shirley Loveman Margulis (1918-1999).
---
Sources: Scope of Soviet Activity; BN 58 Retreats; USSDA 2:0731, 57:0123; L-W Tree, Ancestry. Code A
---
Photograph: Eugene Jacob Loveman, Passport Photograph 1937.