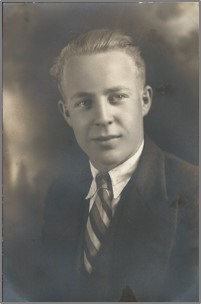 Biography
k-Hobbs, Everett
b. August 18, 1913, Saskatoon, Canada, to the US 1923; Jarama Lost Trucks; Father Everett L. Hobbs, Sr. (1874-?); Was an American who went to Canada in 1906 and was naturalized in 1912, Mother came to Canada in 1906 from South Africa; Seaman; Anti-Fascist; Received Passport# 358606 on December 23, 1936 which listed his address as 602 Centinenila Avenue, Inglewood, California; 25 years old; Sailed December 26, 1936 aboard the
Normandie
; Served with the XV BDE, Lincoln BN; Served at Jarama; Killed in action February 16, 1937, Jarama, was aboard one of two trucks that strayed into Nationalist lines on the approach march to the Jarama Front.
---
Siblings: brother Lewis Hobbs (1921-?), sisters Enid Hobbs (1900-?), Connie Hobbs (1901-?) NOT CERTAIN ON THESE.
---
Sources:
Scope of Soviet Activity, L-W Tree Ancestry. Code A1
---
Photographs: 
Everett Hobbs from his great niece Judy Darland; Seaman's Protection Certificane Application, and photograph from clipping of the Post Gazette, Pittsburgh, Pennsylvania, October 19, 1937.
---