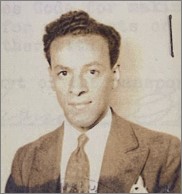 Biography
k-Feller, Joseph Samuel June 23, 1914, NYC: Polish American; Jewish; Father Isaac Feller(1876-1934), mother Rebecca Feller (1875-1943), parents from the Polish portion of Austria-Hungary, Father died in Palestine; Single; Bookkeeper, Salesman, and Reporter; YCL 1934 (1933) County Literature Agent; Received Passport# 30191, San Francisco series, on July 2, 1937 which listed his address as 1031 Filmore Street, San Francisco, California and 1550 55th Street, Brooklyn, New York; 24 years old; Sailed July 17, 1937 aboard the Aquitania; Arrived in Spain via Agullana on July 25, 1937; Served with the XV BDE, Mackenzie-Papineau BN; KIA August 1938, Sierra Pandols, Ebro Offensive; Brother of Mike Feller and uncle of Hy Katz; Lived in Palestine from November 1927 to February 1928.
---
Sibling: brothers Herman J. Feller (1894-1963), Abraham Feller (1896-1981), Aryeh Zvi Feller (1901-1987), Morris Daniel Feller (1905-1938), Benjamin Feller (1909-?), and Michael Samson Feller(1918-1944); sisters Leah Feller (1893-1985), Sarah L. Feller (1899-?), Sara Feller (1908-1975), and Clair Theda Feller (1911-1995).
---
Sources: Scope of Soviet Activity; Cadre; Figueres List; Mac-Paps; RGASPI.
---
Photograph: Joseph Feller, Passport Photograph, 1937.