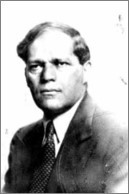 Biography
Fischer, Louis
b. February 29, 1896, Philadelphia, Pennsylvania; Jewish; father David Fischer (1867-?), mother Sophia Fischer (1870-?); Graduated from the Philadelphia School of Pedagogy, University of Pennsylvania; Prior military service in WWI served in the British Army in Egypt  and Palestine from 1918-1921 and; the Jewish Legion in Palestine, 1919-20; Married Markoosha, sons Victor Fischer and George Fischer;  Journalist; Arrived in Spain in 1936; Briefly served as the Quartermaster for International Brigade, Albacete; Returned to the US on December 22, 1937 aboard the Manhattan; d. January 15, 1970, Princeton, New Jersey; Considered the first American volunteer in the International Brigades.
---
Sibling:
sister Ida Fisher (1894-?).
---
Sources:
Papers - Princeton University Library; L-W Tree Ancestry.
 Code A
---
Photographs:
Louis Fischer Brazilian Immigration Card 1942; at typewriter from Princeton University Library, undated; and passport 1921.
---