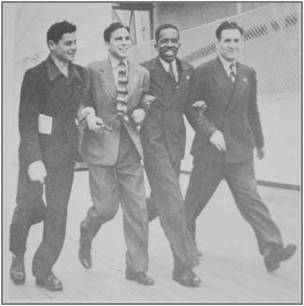 Biography
Feingerish, Francis. (Lister, Frank; Feingersh); b. April 17, 1918, NYC; Single; Mechanic and Driver; YCL; Received Passport# 311064 on June 15, 1938 which listed his address as 3125 Fairmont Street, Los Angeles, California, and NYC; Sailed March 24, 1937 aboard the Manhattan; Arrived in Spain on April 17, 1937; Served with the XV BDE, Washington BN, co. 3, Section 2; WIA July 8, 1937, Brunete; Returned to the US on March 9, 1938 aboard the Antonia; Changed name to Frank Lister (informally) 1938, (formally) 1942, out of respect for Colonel Enrique Lister of the International Brigades in Spain; Married Ida Adler, 1938. Children Brian Flaherty and Tamara Lister; WWII Armed forces; d. December 13, 2002.
---
Sources:  Sail; Scope of Soviet Activity; Cadre; Washington; USSDA (under Fingersh, Francis) 2:0531, 54:0091; RGASPI; (obituary notice) The Volunteer, Volume 24, No. 3, September 2002, p. 22; L-W Tree Ancestry.   Code A
---
Biography: Feingersh was born April 17, 1918 in New York, NY. His parents were Fanny Feingersh and John Feingersh. Fanny died in childbirth; and, Francis was placed in a "foster home" because his father, John, was at sea at the time. John was an early member and organizer of the Marine Telegrapher's Union. Francis Feingersh formally changed his name in 1942 to "Frank Lister." However, he began going by the name "Lister" shortly after returning to the US in 1938. He married Ida Adler, in mid-1938 and his son Brian David Lister was born in October 1939. His middle name "David" was a tribute to David McKelvey White (another ALB Vet), Francis' "mentor" and closest friend. Upon returning to the US in 1938, Francis began to travel around the country, attempting to develop support for the Spanish Republican government in opposition to Franco. He attempted to join the US military after Pearl Harbor but, like so many other Vets, he was considered a "subversive." Following his "rejection" from military service, he enrolled in various classes in aeronautical engineering and flight training. He eventually joined the US Navy and was sent to Attu, in the Aleutian Islands where he finished out WW II as an aircraft mechanic and sometime member of flight crews. Upon discharge from the US Navy in 1946, he worked for different airlines as variously a pilot, a navigator or a flight engineer. In 1948, he enlisted in the Israeli Air Force and given the rank of Colonel. Following the conclusion of the Israeli war for independence from Great Britain (1950) he returned to the US and was variously employed by Howard Hughes (on the Flying Boat--"Spruce Goose"), TWA, United Airlines, Douglas Aircraft, among others. His employers were generally "visited" by the FBI and a "termination of employment" was a "usual" outcome. Eventually he ran out of US employers and sought work overseas (The Soviet Union was one such place, however, they wanted people with jet aircraft experience). He opened up a small TV and "hi-fi" repair business in the Malibu/Santa Monica area of Los Angeles. However, this was merely a "stop-gap" and NOT what he wanted to do. Eventually, he got back into aeronautical engineering and under the auspices of one firm, he traveled the world, training ground maintenance crews for the Boeing 747. In this capacity he was in Iran in 1979 during the "hostage crisis" that eventually brought Ronald Reagan to the Presidency in 1980. He died in May 2002, in an auto crash on I-80 just west of Des Moines, Iowa. He is survived by one son (Brian David Flaherty, nee Lister, living in Wilseyville, CA) and a daughter (Tamara Lister, a university professor living in Brazil.) He also had several grand-children (John David Lister, living in Sausalito, CA; Maureen Erin Flaherty, living in New York City; and, Mary Beth Flaherty, living in the San Francisco Bay Area). He had one great-grand-child (Silvio David Lister, living in Sausalito, CA). Submitted by Brian David Flaherty.
---
Photograph: Frank Feingerish, Bill Bois, James Yates and Joe Drill on their return to the US, VALB/ALBA.